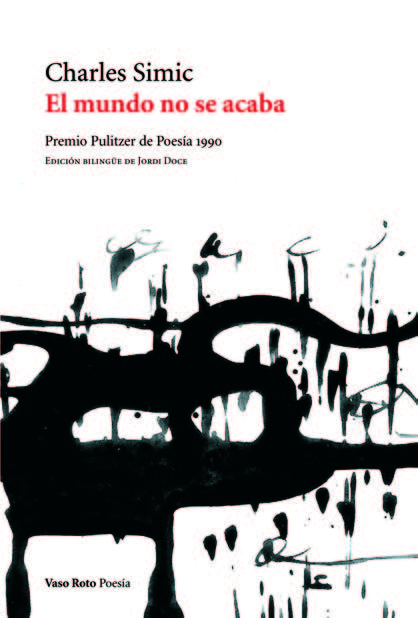 charles simic
el mundo no se acaba
edición bilingüe de jordi doce
vaso roto poesía, 2012
164 pp
A hen larger than the barn pecking the other chickens as if they were kernels of white corn. The legend says it's my great-grandmother. We are running for our lives, my great-grandfather leading the way. 'We'll take your glasses away, Cornelia', he yells over his shoulder!
She gobbled us all up anyway. It was like what Jonah went through inside the whale, except for the young village bride we met there. She smiled mysteriously in welcome and showed us the beds where we were going to spend our long captivity.
'You'd better stop this nonsense, my dear', we heard our great-grandfather whisper before we fell asleep.
The old farmer in overalls hanging from a barn beam. The cows looking sideways. The old woman kneeling under his swaying feet in her Sunday black dress and touching the ground with her forehead like a Mohammedan. Outside the sky is full of sudsy clouds above an endless plowed field with no other landmarks in view.
My thumb is embarking on a great adventure. 'Don't go, please', say the fingers. They try to hold him down. Here comes a black limousine with a veiled woman in the backseat, but no one at the wheel. When it stops, she takes a pair of gold scissors out of her purse and snips the thumb off. We are off to Chicago with her using the bloody stump of my thumb to paint her lips.
A black child wore the mask of comedy on a street of gutted, gray-brick tenements. The mask came from the ruins of the movie palace where it had hung over the proscenium with its companion, tragedy. O child in red sneakers, running… One expected to see one of the shadowy beauties of the silent screen sleepwalking in your wake.
A week-long holiday in a glass paperweight bought at Coney Island. The old lady wipes off the dust every day. I call her an 'old lady', but actually she looks like a monkey when she peers into the glass. We wear no clothes, of course. I'm getting a fantastic tan and so is my wife. At night there's a bit of light coming from the aquarium. We turn green. My wife is a wild fern with voluptuously trembling leaves. In goldfish heaven there's peace and calm.
O the great God of Theory, he's just a pencil stub, a chewed stub with a worn eraser at the end of a huge scribble.
•
•
•
•
Una gallina más grande que el granero picotea a las demás gallinas como si fueran granos de maíz blanco. La leyenda dice que es mi bisabuela. Corremos para salvar el pellejo, con mi bisabuelo en cabeza. «¡Te quitaremos las gafas, Cornelia!», le grita por encima del hombro.
Nos engulló igualmente. Era como lo que le pasó a Jonás dentro de la ballena, salvo por la joven novia de pueblo con la que nos encontramos. Nos dio la bienvenida con una sonrisa misteriosa y nos mostró las camas donde pasaríamos nuestra larga cautividad. 
«Será mejor que detengas esta locura, querida», oímos que susurraba nuestro bisabuelo antes de caer dormidos.
El viejo granjero que cuelga de una viga del granero con el mono puesto. Las vacas mirando de soslayo. La anciana arrodillada bajo sus pies oscilantes, vestida de domingo y tocando el suelo con la frente como un mahometano. Fuera el cielo está lleno de nubes jabonosas sobre un interminable campo arado sin otro hito a la vista. 
Mi pulgar está a punto de embarcarse en una gran aventura. «Por favor, no vayas», le dicen los otros dedos. Tratan de retenerlo. En esto viene una limusina negra con una mujer con velo en el asiento trasero, pero nadie al volante. Cuando se para, la mujer saca un par de tijeras doradas del bolso y corta el pulgar sin contemplaciones. Vamos todos hacia Chicago mientras ella usa el muñón sangriento de mi pulgar para pintarse los labios.
Un niño negro llevaba puesta la máscara de la comedia en una calle humeante de edificios de ladrillo gris. La máscara provenía de las ruinas de un viejo cine sobre cuyo proscenio había colgado junto a su compañera, la tragedia. Oh niño corriendo con zapatillas rojas… Uno esperaba ver a una de las bellezas misteriosas de la pan­talla muda caminando en sueños y siguiendo tu estela.
Una semana de vacaciones en un pisapapeles de cristal comprado en Coney Island. La anciana le quita el polvo cada día. La llamo «la anciana», pero en realidad parece un mono cuando mira por el cristal. No llevamos nada puesto, como es lógico. Estoy consiguiendo un bronceado fantástico, igual que mi mujer. De noche nos llega un poco de luz del acuario. Nos volvemos verdes. Mi mujer es un helecho salvaje de hojas voluptuosamente temblorosas. En el cielo de los pececillos hay paz y tranquilidad.
Oh el gran Dios de la Teoría, no es más que la punta de un lápiz, una punta mordida con una goma de borrar gastada al final de un enorme garabato.
•
---