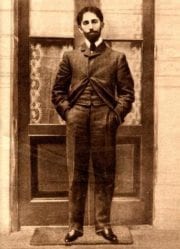 Spoon River Anthology 1916
edgar lee masters
82. john m. church
I WAS attorney for the "Q"

 

And the Indemnity Company which insured

 

The owners of the mine.

 

I pulled the wires with judge and jury,

 

And the upper courts, to beat the claims

         

5

Of the crippled, the widow and orphan,

 

And made a fortune thereat.

 

The bar association sang my praises

 

In a high-flown resolution.

 

And the floral tributes were many—

  

10

But the rats devoured my heart

 

And a snake made a nest in my skull!

 
82. john m. church
Fui el abogado de los Ferrocarriles Q
y de la Compañía de Indemnizaciones
que aseguró a los propietarios de la mina.
Utilicé las influencias del juez, del tribunal
y de las cortes supremas para ganarle los pleitos
a los lisiados, las viudas y los huérfanos,
y debido a eso hice una gran fortuna.
La asociación de tabernas me alabó
mediante un decreto rimbombante.
Y fueron muchos los homenajes florales que recibí
-pero las ratas devoraron mi corazón
y en mi calavera anidó una serpiente-
---