[ezcol_1half]
From Rihaku
FOUR POEMS OF DEPARTURE
Light rain is on the light dust.
The willows of the inn-yard
Will he going greener and greener.
But you, Sir, had better take
wine ere your departure.
For you will have no friends about you
When you come to the gates of Go.
De Rihaku
CUATRO POEMAS DE PARTIDA
La lluvia es ligera sobre el polvo ligero.
Los sauces del jardín interior
Serán más verdes y más verdes.
Pero usted, Señor, sería mejor que tomara
el vino antes de su partida.
Porque no tendrá amigos con usted
Cuando llegue a las puertas de Go.
Separation on the River Kiang
KO-JIN goes west from Ko-kaku-ro,
The smoke-flowers are blurred over the river.
His lone sail blots the far sky.
And now I see only the river,
                      The long Kiang, reaching heaven.
Separación on the Río Kiang
KO-JIN va al oeste desde Ko-kaku-ro,
Las flores de humo están borrosas sobre el río.
Su solitaria vela emborrona el cielo lejano.
Y ahora sólo veo el río,
                              El largo Kiang, llegando al cielo.
Taking Leave of a Friend
Blue mountains to the north of the walls,
White river winding about them;
Here we must make separation
And go out through a thousand miles of dead grass.
Mind like a floating wide cloud.
Sunset like the parting of old acquaintances
Who bow over their clasped hands at a distance.
Our horses neigh to each other
as we are departing.
Despedida de un amigo
Montañas azules al norte de las murallas,
El río blanco serpenteando entre ellas;
Aquí debemos separarnos
Y atravesar mil millas de hierba muerta.
La mente como una ancha nube flotante.
La puesta del sol como la separación de viejos conocidos
Que se inclinan en la distancia sobre sus manos entrelazadas.
Nuestros caballos relinchan uno al otro
Mientras nosotros partimos.
[/ezcol_1half] [ezcol_1half_end]    
Leave-taking near Shoku
«Sanso, King of Shoku, built roads»
THEY say the roads of Sanso are steep,
Sheer as the mountains.
The walls rise in a man's face,
Clouds grow out of the hill
at his horse's bridle.
Sweet trees are on the paved way of the Shin,
Their trunks burst through the paving,
And freshets are bursting their ice
in the midst of Shoku, a proud city.
Men's fates are already set,
There is no need of asking diviners.
Despedida cerca de Shoku
«Sanso, rey de Shoku, construyó caminos»
Dicen que los caminos de Sanso son empinados,
Verticales como las montañas.
Las paredes se levantan en la cara de un hombre,
Las nubes brotan de la colina
En la brida de su caballo.
Los dulces árboles están en el camino pavimentado del Shin,
Sus troncos revientan el pavimento,
Y los torrentes estallan rebosantes de hielo
En medio de Shoku, una ciudad orgullosa.
Los destinos de los hombres ya están fijados,
No hay necesidad de preguntar a los adivinos.
The City of Choan
The phoenix are at play on their terrace.
The phoenix are gone, the river flows on alone.
Flowers and grass
Cover over the dark path
where lay the dynastic house of the Go.
The bright cloths and bright caps of Shin
Are now the base of old hills.
The Three Mountains fall through the far heaven,
The isle of White Heron
splits the two streams apart.
Now the high clouds cover the sun
And I can not see Choan afar
And I am sad.
La ciudad de Choan
Los fénix juegan en su terraza.
Los fénix se ha ido, el río fluye solo.
Flores y hierba
Cubren el oscuro sendero
Donde estaba la casa dinástica de los Go.
Las telas brillantes y las gorras brillantes de Shin
están ahora al pie de viejas colinas.
Las Tres Montañas caen del lejano cielo,
La isla de la Garza Blanca
Separa las dos corrientes.
Ahora las altas nubes cubren el sol
Y no puedo ver Choan a lo lejos
Y estoy triste.
[/ezcol_1half_end]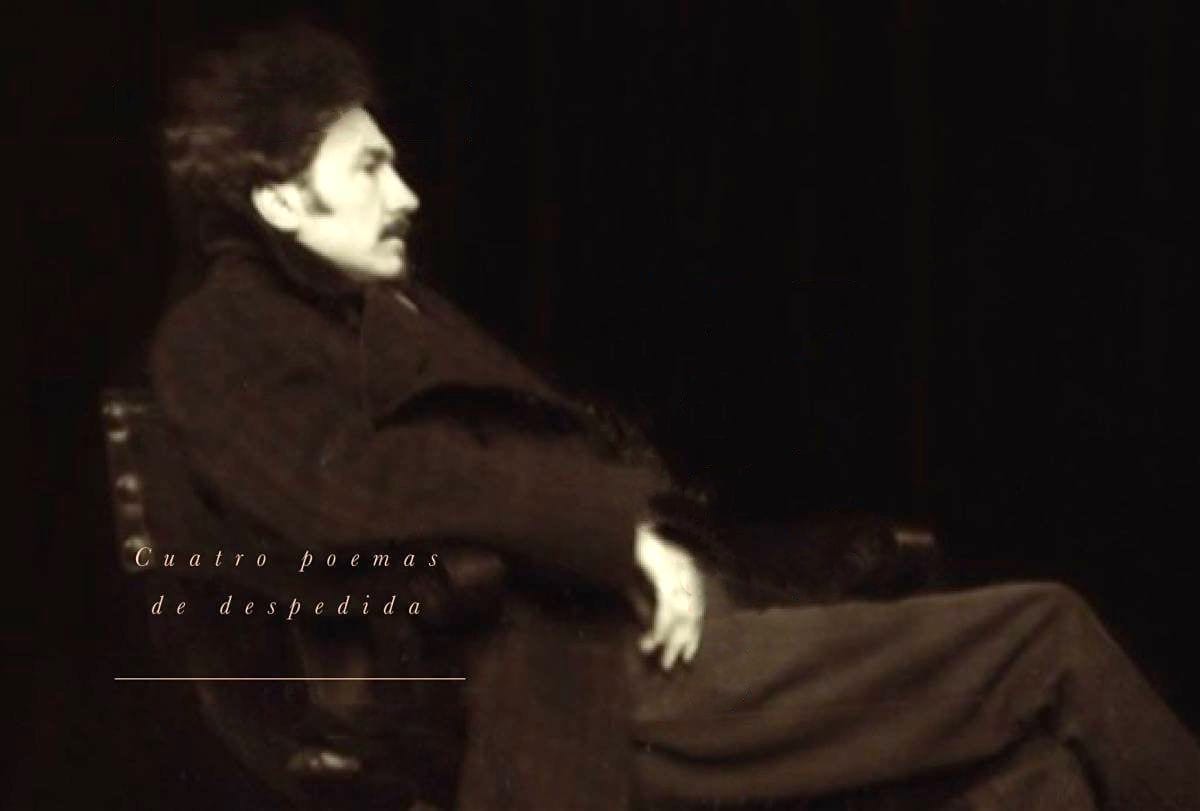 ---