–
[ezcol_1half]             
–
muerte y compañía
–
–
Dos, sin duda hay dos.
Ahora resulta perfectamente natural.
El que jamas levanta la mirada -como Blake, los ojos
Dos esferas entre carnosas arrugas-,
El que exhibe
–
Las marcas del nacimiento que son su marca de fábrica:
La cicatriz de su escaldadura,
El desnudo
Cardenillo del cóndor.
Soy carne roja. Su pico
–
Golpea en mi costado: aún no le pertenezco.
Me dice hasta qué punto no soy fotogénica
Me dice hasta qué punto son dulces
Los bebés en la morgue
Del hospital: un exiguo
–
Volado alrededor del cuello,
Los pliegues de sus mortajas
Jónicas,
Apenas dos piececitos después.
No fuma ni sonríe.
–
El otro se encarga de eso,
Y su cabello es largo, especioso.
El degenerado
Que masturba un resplandor
Ansía ser amado.
–
No me muevo.
La escarcha traza una flor,
El rocío traza una estrella,
La campana muerta,
La campana muerta.
–
Alguien está acabado
[/ezcol_1half] [ezcol_1half_end] 
–
–
…………..
–
–
Death & Co
–
–
Two, of course there are two.
It seems perfectly natural now —
The one who never looks up, whose eyes are lidded
And balled¸ like Blake's.
Who exhibits
–
The birthmarks that are his trademark —
The scald scar of water,
The nude
Verdigris of the condor.
I am red meat. His beak
–
Claps sidewise: I am not his yet.
He tells me how badly I photograph.
He tells me how sweet
The babies look in their hospital
Icebox, a simple
–
Frill at the neck
Then the flutings of their Ionian
Death-gowns.
Then two little feet.
He does not smile or smoke.
–
The other does that
His hair long and plausive
Bastard
Masturbating a glitter
He wants to be loved.
I do not stir.
The frost makes a flower,
The dew makes a star,
The dead bell,
The dead bell.
–
Somebody's done for.
    [/ezcol_1half_end]
–
Sylvia Plath
–
Muerte y Compañía
Ariel
3ª edición
Hiperión 2013
Madrid
Traducción de Cristina Piña
–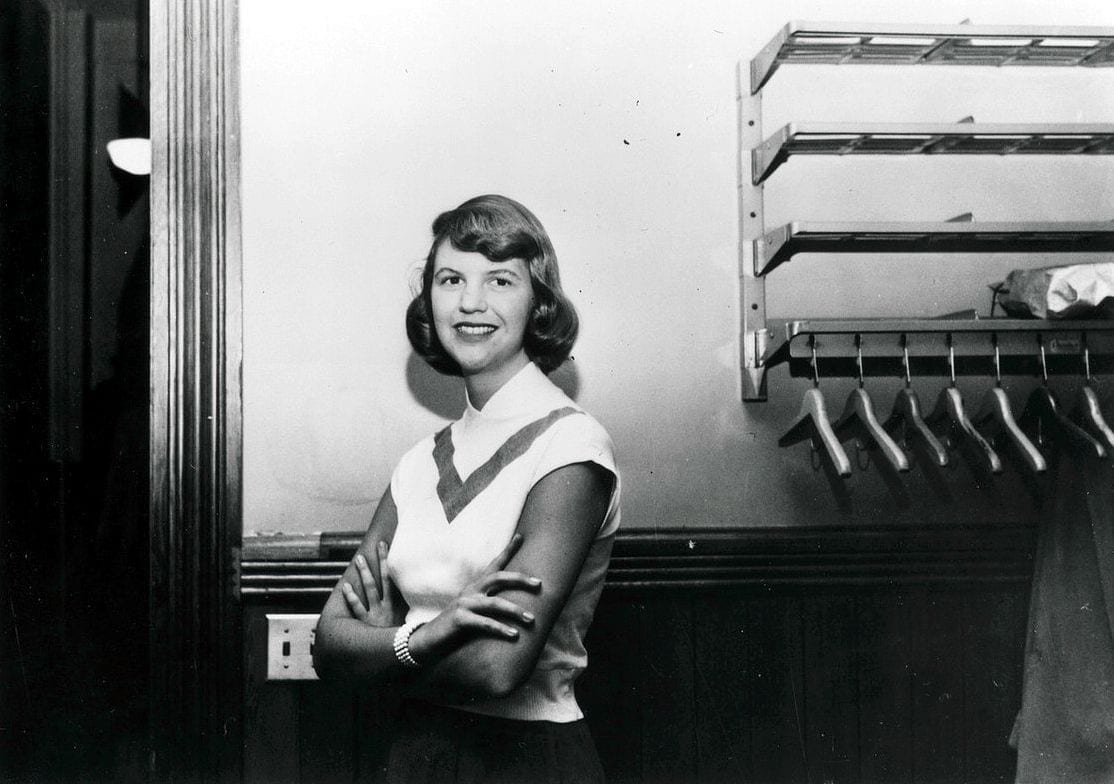 ---