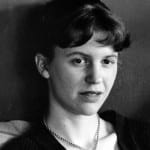 nuestras versiones
SONG FOR A SUMMER'S DAY
Through fen and farmland walking
With my own country love
I saw slow flocked cows move
White hulks on their day's cruising;
Sweet grass sprang for their grazing. 
The air was bright for looking:
Clouds steered a burnished drift;
Larks' nip and tuck arising
Came in for my love's praising. 
Sheen of the noonsun striking
It were a green-tipped leaf
Kindled by my love's pleasing
And so, together, talking,
Through Sunday's honey-air
We walked (and still walk there—-
Out of the sun's bruising)
Till the night mists came rising.
CANCIÓN PARA UN DÍA DE VERANO
Por el pantano y la finca paseando
con mi reconocido amor campestre
vi acudir despacio a las vacas
blancas moles en su día de paseo;
la dulce hierba brotando para su pastoreo.

La atmósfera resplandecía para lucirlas:
más lejos, azuladas, arriba,
las nubes avanzaban hacia un pulido dejarse llevar;
las alondras, reñidas, surgiendo
acudieron para alabanza de mi amor.

El brillo del mediodía, abrasador
se adhería a mi corazón como si
fuese una hoja de punta verde
encendida por mi complaciente amado
hasta convertirse en un apasionado fuego.

Y así, juntos, hablando,
a través del meloso ambiente de domingo
anduvimos (y aún caminábamos—
inconscientes de las magulladuras del sol)
hasta que la niebla nocturna apareció alzándose.