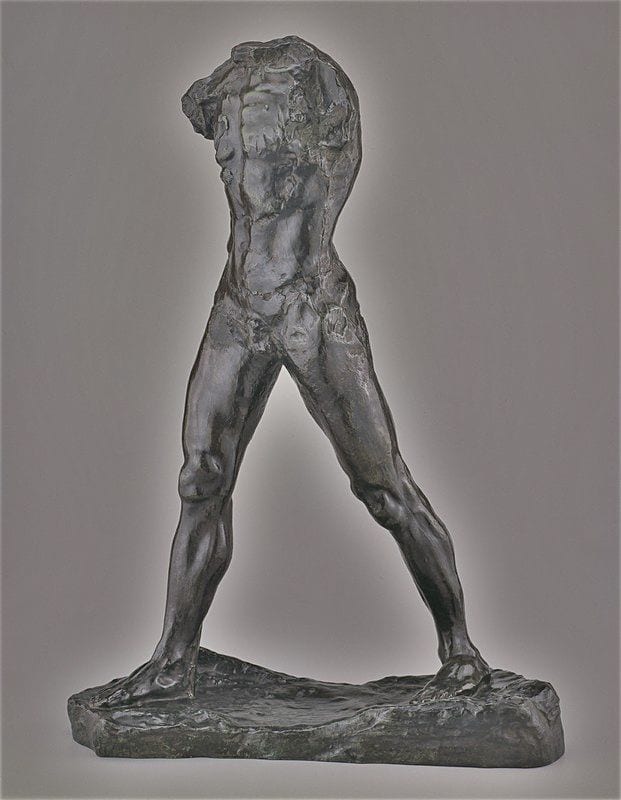 [ezcol_1half]       
The Walking Man, Modeled 1877/1900; cast about 1900
Bronze
H. 84.1 cm (33 1/8 in.)
Signed in model on base; signature plate welded under base
Bequest of A. James Speyer, 1987.217
European Painting and Sculpture
Gallery 243
the art institute of chicago 
[/ezcol_1half] [ezcol_1half_end]    
carl sandburg
Traducción de Magdalena Biota
el hombre que camina de rodin
Unas piernas sostienen un torso fuera de la tierra.
Y un gran poema simétrico de piernas aparece.
Fuerzas de hueso y cuerda levantan un abdomen y unos pulmones
desde el cieno y sobre la arcilla donde los ojos ven y los oídos oyen
y las manos tienen la oportunidad de martillear, disparar y encender motores.
de nuestras piernas, viejo.
Y no incluiste la cabeza,
el cráneo se halla siempre desmenuzado cerca de los tobillos.
Legs hold a torso away from the earth.
And a regular high poem of legs is here.
Powers of bone and cord raise a belly and lungs
Out of ooze and over the loam where eyes look and ears hear
And arms have a chance to hammer and shoot and run motors.
Proud of our legs, old man.
And you left off the head here,
The skull found always crumbling neighbor of the ankles.
 [/ezcol_1half_end]
---