charles simic
mi séquito silencioso
traducción: antonio albors
vaso roto ediciones
2014
my noiseless entourage: poems
[ezcol_1half]   
autostopistas
sobre una foto de Walker Evans de los años treinta
Tiempos duros les empujaron pronto
a este lúgubre trozo de carretera
llevando una maleta y un colchón enrollado
con una sartén atada, del tipo que usarías
sobre un fuego de campamento
cuando usas por almohada un tronco con musgo.
Ël tiene esperanza y ella vergüenza
de pedirle a un extraño que les lleve
lejos de aquí en una nube en la que vuelan
polvo y grava, a través de los árboles sin hojas
con sus pequeñas, enredadas y afiladas ramitas.
Un hombre y una mujer esperando un paseo
hacia donde el agua sabe a vino de cerezas
Ella trabajará como criada o camarera,
él servirá gasolina o robará bancos.
Se comprarán un coche tan grande
como uno fúnebre para escapar rápido,
y no se olvidarán de parar por ti, caballero,
si a ti mismo te llega la mala suerte.[/ezcol_1half] [ezcol_1half_end] 
hitchhikers
after a Walker Evans photograph from the thirties
 
Hard times brought them out early
On this dreary stretch of road
Carrying a suitcase and a bedroll
With a frying pan tied to it,
The kind you use over a campfire
When a moss-covered log is your pillow.
He's hopeful and she's ashamed
To be asking a stranger to take them
Away from here in a cloud of flying
Gravel and dust, past leafless trees
"With their snarled and pointy little twigs.
A man and a woman catching a ride
To where water tastes like cherry wine.
 
She'll work as a maid or a waitress,
He'll pump gas or rob banks.
They'll buy a car as big as a hearse
To make their fast getaway,
Not forgetting to stop for you, mister,
If you are down on your luck yourself.[/ezcol_1half_end]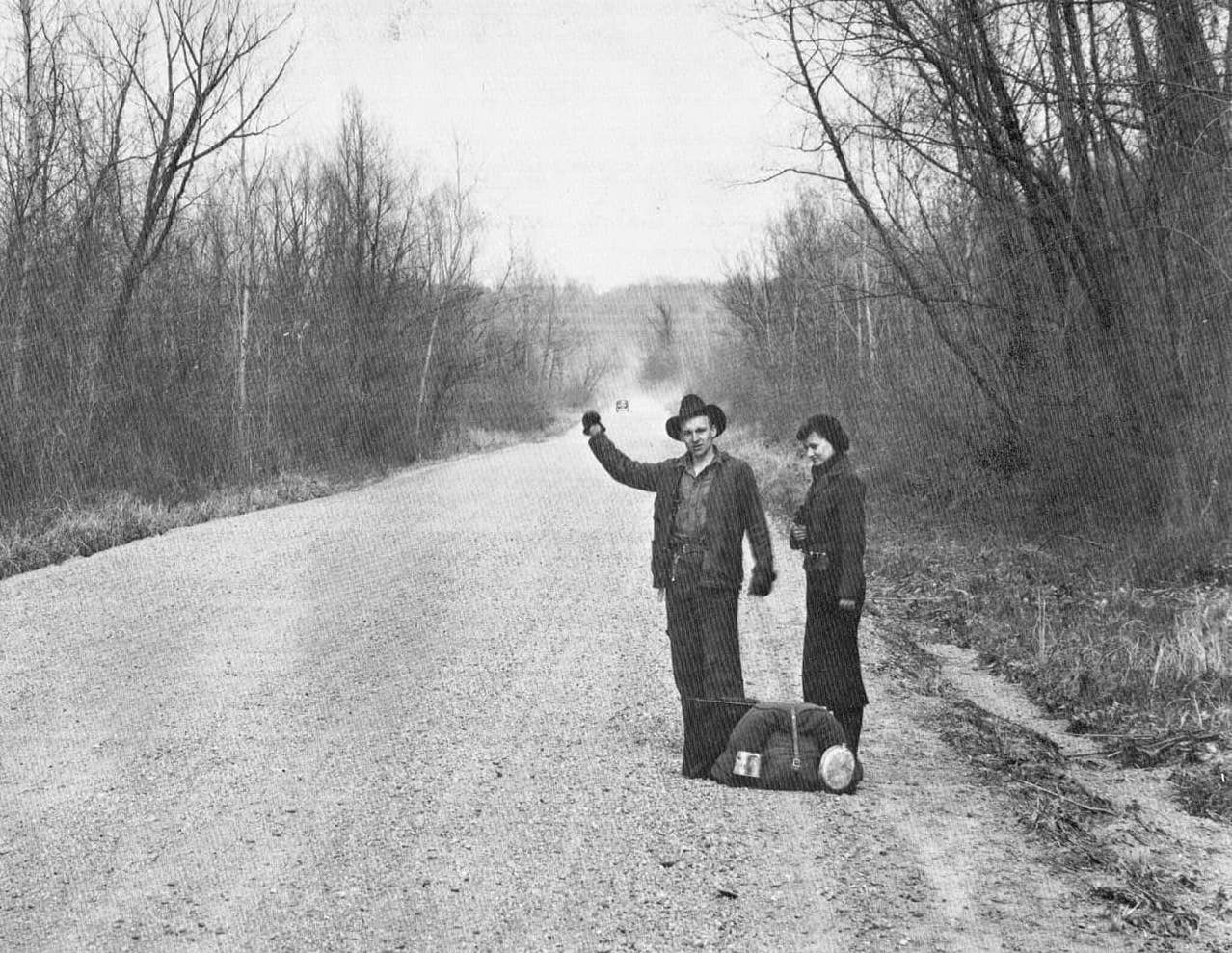 •