[ezcol_1half]    
funeral eléctrico
El reflejo en el cielo
os alerta de que vais a morir
Se avecina tormenta
Mejor deberías esconderte de la marea atómica
Destellos en el cielo
Las casas se convierten en establos
la gente se vuelve arcilla
Radiación, mentes en decadencia
Robóticas mentes de esclavos robots
llevan a los hombres a fosas comunes atómicas
Flores de plástico se derriten al sol
La debilitada luna cae
sobre un agonizante mundo de radiación
Víctimas de una loca frustración
en llamas, resplandeciendo por un insultante fuego
como una pira funeraria eléctrica
Los edificios se derrumban
hacia el agrietado suelo de la tierra
Los ríos vuelven al bosque
los ojos se derriten en la sangre
La tierra descansa en un lecho de muerte
Las nubes lloran a los muertos
lagrimosas, en forma de lluvia
calmando el ardiente dolor
Funeral eléctrico
funeral eléctrico
funeral eléctrico
funeral eléctrico
Y así en el cielo
brilla el ojo eléctrico
de un Rey Sobrenatural
acurrucando a la tierra bajo su ala
Los coros dorados del cielo cantan
los ángeles del infierno baten sus alas
Las almas malignas caen al infierno
¡para siempre atrapadas, en llameantes celdas!
Nuestras versiones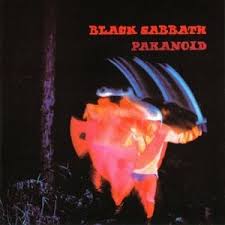 [/ezcol_1half] [ezcol_1half_end]      
electric funeral
Reflex in the sky
Warn you you're gonna die
Storm coming, you better hide
From the atomic tide
Flashes in the sky
Turns houses into sties
Turns people into clay
Radiation minds decay
Robot minds of robot slaves
Lead men to atomic graves
Plastic flowers melt in sun
Fading moon falls upon
Dying world of radiation
Victims of mad frustration
Burning glow of obscene fire
Like electric funeral pyre
Buildings crashing down
To Earth's cracking ground
Rivers turn to wood
Eyes melt into blood
Earth lies in death bed
Clouds cry for the dead
Tearing falling rain
Ease the burning pain
Electric Funeral
Electric Funeral
Electric Funeral
Electric Funeral
And so in the sky
Shines the electric eye
Supernatural king
Takes Earth under his wing
Heaven's golden chorus sings
Hell's angels flap their wings
Evil souls fall to Hell
Ever trapped in burning cells!
Black Sabbath
Paranoid – 1970
Sanctuary Records Group,
a BMG Company, under exclusive licence to
[PIAS] UK Ltd.
---
  [/ezcol_1half_end]