Traducción de Juan AntonioGonzález-Iglesias
Pórtico de Jacques Darras.
Linteo. Santiago de Compostela. 2007. 140 páginas
poemas

de amor
james

laughlin
[ezcol_1third]       
1-EL DESLUMBRAMIENTO DEL AMOR
2-ESTABAS DORMIDA
3-MEDIO A OSCURAS
4-LA PREGUNTA SIN RESPUESTA
5-LA IMPORTANCIA DEL SILENCIO
6-LA DANZA DE LA PIEL
7-MASILLA QUISIERA SER
8-ATRAÍDO POR LA LUZ
9-ALTAR DEL AMOR
10-UNA SUGERENCIA
11-DOS CUCHARAS
12-EL ESTANQUE PROFUNDO
13-LARGA Y LÁNGUIDA
14-ANIMA MEA
15-AMOR QUE LLEVA REGALOS
16-LA ESTRELLA DEL ATARDECER
17-EL FARO
18-MIGAJAS DE AMOR
19-HABITACIÓN A OSCURAS
20-UN LENGUAJE SECRETO
21-DULCE NIÑEZ
22-NUNCA HAY NUNCA
POEMAS DE AMOR CLÁSICOS
23-EL PÁJARO DEL TIEMPO INTERMINABLE
24-LA LLEGADA DE LA PRIMAVERA
25-LA GRULLA
26-LOS AMANTES
27-RECUERDO DE ELLA
28-LA VISITA DE EROS
[/ezcol_1third] [ezcol_2third_end]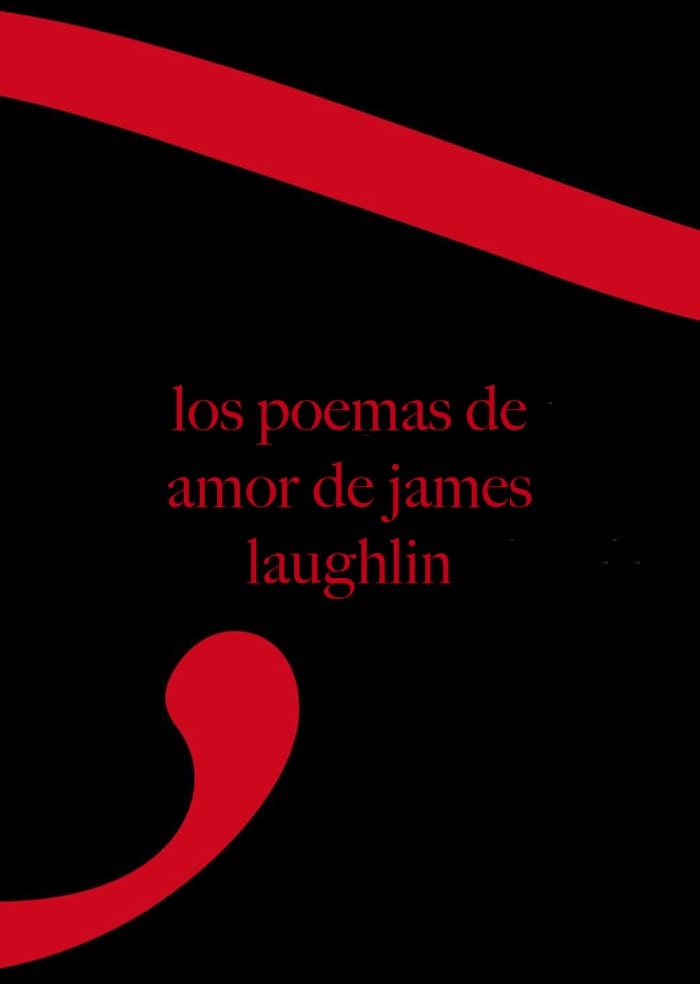 [/ezcol_2third_end]
[ezcol_1half]
EL DESLUMBRAMIENTO
DEL AMOR
Procede frecuentemente
de la llamarada de
la luz, cuando un asteroide
pasa demasiado cerca.
También existe la
radiación más suave
cuando nos separamos
y entramos en el sueño
pensando uno en el otro.
ESTABAS DORMIDA
Cuando me metí en la cama
acurrucándome todo
cual niño bajo la manta
y cuando llegué a tu la-
do con el mayor sigilo
te moviste sin llegar
a despertarte una mano
pusiste bajo mi cara
igual que si sostuvieras
un tazón o un balón.
para Ann
MEDIO A OSCURAS
tu cara sigue siendo muy hermosa
hay una radiación que es diferente
y llega con el sueño me despierto
y acariciando tu mejilla noto
tu aliento entre mis dedos inseguros
tus ojos ahora están cerrados pero
yo sospecho que pueden ver y están
mirando el porvenir y contemplando
el futuro hasta un punto tan distante
como el final de nuestro tiempo juntos.
LA PREGUNTA SIN RESPUESTA
Se hace fácil complacerte
cuando aseguras que entero
tu cuerpo quiere tocar
todo el mío desde la
frente hasta los pies mas ¿qué
pasa con el alma? ¿cómo
dar con el alma? ¿cuál es
su punto? ¿dónde reside?
LA IMPORTANCIA DEL SILENCIO
Porque hay algunas cosas
para las que no hay nombres
no tienes que ponerte
a inventarlos los términos
que tomas de los viejos
poetas son bonitos
para leerlos en páginas
pero los que yo quiero
escuchar y sentir
los únicos que quiero
proceden de tus labios
proceden de tus manos.
LA DANZA DE LA PIEL
Sobre su carne la piel
danza no intentes hablar
de la danza de la piel
no digas nada de nada
quieto sin más siéntela
moverse quieto sin más.
MASILLA QUISIERA SER
en tus manos deberías
convertirme en la perso-
na que tú de verdad amas
yo no tengo espejo para
verme (lo único que veo
es a ti) con esos finos
dedos debes modelarme
como te guste que sea.
ATRAÍDO POR LA LUZ
Esta cálida tarde un bicho diminuto
volando ha penetrado por la ventana abierta.
Después de aterrizar en mi cabeza, está
explorando mi pelo, haciéndome cosquillas.
Como un buen jain,* no intento matarlo. Criatura
de Dios. ¿No tengo suerte a mis 79
años por conservar bastante pelo para
resultar atractivo a un bicho diminuto?
Tú, a quien ahora estoy dirigiendo estas líneas,
¿sigues pensando en mí allá lejos, en Londres,
tan distante de aquí como te hallas ahora?
Tú sigues siendo para mí la luz.
para Vanessa
* Un jain puede ser un monje o un seglar del jainismo,
la segunda religión heterodoxa de la India, después
del budismo. Fundada en el siglo VI a.c., esta comunidad
se interesa por el ascetismo y la no violencia. Para esta
doctrina, basada en un panteísmo pananimista, el mayor
pecado que puede cometer un hombre es hacer daño a
un ser vivo. Aunque el jainismo prevé su propia desaparición
como religión, el poema de Laughlin atestigua
su conocimiento en los Estados Unidos. [N. del T.]
ALTAR DEL AMOR
Déjame postrarme ante
el altar del amor deja
que haga una genuflexión
en este lugar sagrado
es inútil que argumentes
que es normal ese fulgor
y común a todo tu
sexo para mí es el punto
justo para el sacramento
el altar donde se cumple
el ritual de los Misterios.
UNA SUGERENCIA
Estaría bien que pudieras
dejar de hablar mientras besas
que me encantan los poetas
y sus cataratas de
palabras mas cada cosa
a su tiempo por favor.
DOS CUCHARAS
Hecho ya el amor tenemos
sueño nos acurrucamos
juntos como dos cucharas
adaptada cada una
bien a la otra mi brazo
te rodea está mi mano
sosteniendo tu seno
y puedo sentir incluso
tu pie en los dedos del mío
tu pelo largo se extiende
entre tu espalda y mi pecho
te hablo bajito al oído
aprietas por un momento
mis dedos ya nos dormimos.
EL ESTANQUE PROFUNDO
Quiero que te zambullas en mi vida
igual que si estuvieras buceando
dentro del mar en un profundo estanque
que nada se te oculte aguanta la
respiración y nada bajo el agua
para explorar las grietas una a una
en rocas y coral avanza entre
las plantas submarinas preguntando
a las extrañas criaturas que
te puedas encontrar y que los peces
charlen contigo sobre mí pregunta
al calamar gigante y a la raya
de aguijón venenoso que ellos pueden
darte muchos detalles sobre mí
tal vez algunos no te guste oírlos
que nada se te pase has de saber
cómo era yo antes de tu llegada.
LARGA Y LÁNGUIDA
Una tarde robada entera ante nosotros
sin prisa sin agobios saboreando cada
sensación quizá empieza con una repetida
mímesis de recuerdos de nuestra adolescencia
lo que tú aprendiste del chico de la puerta
de al lado lo que a mí me enseñó la señora
divorciada sin prisa sin agobios cómo esto
de hacer el amor puede después de tanto tiempo
de manera tan vívida retornar todavía
podemos sentir ciertas caricias oír ciertos
tonos de voz incluso rememorar algunas
palabras que cruzamos hacer el amor es
algo acumulativo nada de lo que entonces
fue bueno está realmente perdido pues aún
puede seguir habiendo nuevos descubrimientos
caminitos ocultos dirigidos al goce
sin prisa sin agobios tiempo para poder
dormitar un momento entre abrazo y abrazo
tiempo de bromear también un poco por-
que existe asimismo ese aspecto de lo
ridículo en el acto de copular. Mejor
que todo sea tierno y delicado
y generoso igual que nuestra tarde va
veloz por su camino a la vez larga y lánguida.
ANIMA MEA
Después de que acabamos
de hacer el amor una
muchacha de ojos grandes
y aliento tibio se
puso a hablar de mi alma
silencio yo le dije
silencio y precaución
si tengo alma es tan sólo
caja de vanidades
atada con pedazos
de cuerda estremecidos.
[/ezcol_1half] [ezcol_1half_end]
AMOR QUE LLEVA REGALOS
El poeta dispara tantas cartas
a Lucina, como una catapulta,
son tan incomparables sus imágenes…
¡Quisiera él que esto signifique
que habrá una conjunción de corazones!
LA ESTRELLA DEL ATARDECER
Llegaste
como un pensamiento cuando yo
había dejado atrás tanto pensar.
Llegaste como una
canción cuando yo había terminado
de cantar.
Llegaste cuando el sol
acababa de empezar
su ocaso.
Eras la estrella de mi atardecer.
EL FARO
Tú eres mi faro. Incesantes
tus rotaciones irradian
sobre el mar, sobre la tierra.
Por ellas se guían los pájaros
y los viajeros perdidos
en los páramos. Mi brújula
y mi luz, eso eres tú.
MIGAJAS DE AMOR
Tus cartas, infrecuentes
pero dulces y erráticas
en lo que cuentan, son
migajas de amor. ¿Qué
haría yo sin ellas?
Son mi alimento cuando
siento hambre de ti
desde tan lejos. Toma
tu lápiz por favor
tan a menudo
como puedas, una postal
al menos, y no olvides,
las infantiles fotos
en las que estamos juntos
cogiéndonos las manos.
HABITACIÓN A OSCURAS
La noche: habitación
oscurecida para los amantes.
Se fue el sol y con él las distracciones
e inquietudes diurnas.
Ahora estamos a oscuras y tan juntos
como les corresponde a unos amantes.
Cuando estamos dormidos
o cuando despertamos,
no se interpone nada entre nosotros.
Nos calma y nos protege
la oscuridad de nuestra habitación.
Las dos primeras líneas proceden
de «Queja» de William Carlos Williams.
UN LENGUAJE SECRETO
Ojalá yo pudiera conversar con tu cuerpo
sin tantas precauciones. Quiero decir en un
idioma tan sincero como el que su belleza
merece. Por supuesto, cada vez que nosotros
hacemos el amor, está presente allí
la comunicación de la caricia, dedos
sobre la carne, labios adentro de la carne,
pero seguramente tiene que haber alguna
variedad de lenguaje, cuerpo en el otro cuerpo,
que es más profundo incluso que tanta superficie
de contacto, un idioma que aún no he aprendido
o no lo he aprendido lo suficientemente
bien, por más que lo he intentado. ¿Algún día
dominaré ese idioma secreto para ti?
DULCE NIÑEZ
Por qué no pretender que
somos dos niños que juegan
cada uno con el otro
sin comprender de verdad
lo que estamos haciendo, sólo que es
divertido, nos hace sentir bien
y tenemos una urgente
curiosidad cada uno
por estudiar cada parte
del otro. Dulce niñez,
tiempo feliz de la inocencia,
vuelve a nosotros, trae
otra vez una hora de los días
en que todo era tierno y era nuevo.
NUNCA HAY NUNCA
en amor lo que una vez
fue bello puede volver
siempre cuando la tormenta
escampa o se lleva el viento
las nubes no te apresures
ni cierres tu corazón
nunca hay nunca en el amor.
POEMAS DE AMOR CLÁSICOS
EL PÁJARO DEL TIEMPO INTERMINABLE
Tus dedos me acarician como el ala de un pájaro,
lo mismo que las plumas del pájaro que vuelve
cada centena de años a rozar una cima
allá en el Himalaya hasta que está la roca
gastada totalmente, y acabados los kalpas.
Kalpas: en el hinduismo, un eón.
LA LLEGADA DE LA PRIMAVERA
Se acerca la estación primaveral,
¿quién me ayudará a reunirme con mi amada?
Cómo describiré la belleza de la amada
que está inmersa en todas las bellezas,
que colorean todas las pinturas del universo…
Kabir (1440-1818),
abreviado, traducción de Ezra Pound a partir
de la versión inglesa de Kali Mohan Ghose.
LA GRULLA
¡Fuera, grulla, del jardín!
No le contaste a mi amor,
el príncipe de la playa,
el tormento que padezco.
¡Fuera, grulla, del jardín!
del Tamil de Shilappadikaram,
siglo III d.C, traducción de
Alain Danielou.
LOS AMANTES
Radha observó al dios Krisna, que la deseaba sólo a ella,
que largamente había querido un devaneo
con ella. Su cara
estaba poseída de deseo. Mostraba su pasión
por estremecimientos de sus ojos brillantes.
Eran como un estanque de lotos con un par
de aguzanieves que jugaran.
del Gita-Govinda hindú (siglo XII),
traducción de Keyt.
RECUERDO DE ELLA
No puede ser que pase un solo día aburrido
ningún hombre que tenga algún recuerdo de ella,
por ella es el principio y nacimiento de
todo gozo y aquel
que se ponga a alabarla,
por muy bien que hable de ella
¡está mintiendo!
del trovador Peire Vidal (1175-1205),
traducción del provenzal de Paul Blackburn.
LA VISITA DE EROS
Filodemo recuerda cómo fue:
primero emborrachamos el candil
del dormitorio con aceite. Y luego
lo dejamos que él solo se apagara.
Sabíamos que hay veces
en las que Eros no quiere testigos.
Hicimos uso de la cama, esa
amiga del amante, para que fuera ella
la que nos enseñara los secretos
de Afrodita, las cosas
de las que rara vez nos atrevemos
a hablar.
[/ezcol_1half_end]
---
---
---
[ezcol_1half]    
THE DAZE OF LOVE
Comes often from
the blaze of light
when an asteroid
passes us too near.
There is also
the softer radiance
when we are separated
and sink into sleep
thinking of each other.
YOU WERE ASLEEP
When I came to bed all
curled up like a child
under the blanket and
when I slipped in be-
side you as quietly as
I could you stirred but
didn't really wake and
stretched out a hand to
cup my face as if you were
holding a bowl or a ball.
for Ann
IN HALF DARKNESS
your face is still so beautiful
there is a different radiance
that comes in sleep I wake and
touch your cheek I feel your
breath on my groping fingers
your eyes are closed but I sus-
pect they can see & are watch-
ing what is to come they are
looking into the future as far
as the end of our time together.
THE UNANSWERABLE QUESTION
It's easy to oblige you
when you say your whole
body wishes to be touching
all of mine from forehead
to feet but what of the
soul how can we realize
the soul what is its lo-
cus where does it reside?
THE IMPORTANCE OF SILENCE
Because there are some things
for which there are no names
there is no need for you to
try to invent them your words
from the old poets are beauti-
ful to read on the page but the
ones I want to hear & feel come
from your lips and your hands.
THE DANCE OF THE SKIN
Over her flesh the skin
dances don't try to talk
about the dance of the
skin don't say anything
at all just lie still and
feel it move just lie still.
LOVE BEARING GIFTS
The poet hurls so many letters at
Lucina, he is like a catapult. But
her images are so incomparable
he hopes it means that there
will be a conjunction of hearts!
I'D LIKE TO BE PUTTY
in your hands you must
shape me into the per-
son you can really love
I have no mirror to see
myself (it's only you I
see) so with your gentle
fingers you must mould me
as you'd like to have me be.
LOVE'S ALTAR
Let me bow down before
the altar of love let
me genuflect at that sa-
cred place it's useless
for you to protest that
this shrine is ordinary
and common to all your
sex for me it's the lo-
cus of the sacrament the
altar where the ritual of
the Mysteries is enacted.
ATTRACTED BY THE LIGHT
This warm evening, a very small bug
Has flown through the open window,
Landed on my head and is exploring
My hair. It tickles, but like a Jain
I'll not try to kill it. One of God's
Creatures. And am I not lucky
That at 79 I still have enough hair
To seem attractive to the bug?
You to whom I'm sending these lines,
Do you still think of me, far away
There in London as you are?
For me you are still the light.
for Vanessa
A SUGGESTION
It would be nice if you
could stop talking while
you are kissing I love
poets and their water-
falling words but one
thing at a time please.
TWO SPOONS
After we have made love
and are sleepy we curl
together like two spoons
each fitting closely in-
to the other my arm is
around you my hand hold-
ing your breast I can
even feel your feet with
my toes your long hair
is between your back and
my chest I whisper very
softly into your ear for
a moment you squeeze my
fingers and we fall asleep.
THE DEEP POOL
I want you to plunge into my life
as if you were diving into a deep
pool in the sea let nothing be
hidden from you hold your breath
and swim underwater to explore
every crevice in the rock and
the coral make your way through
the undersea vegetation question-
ing the strange creatures which
you may encounter let the fish
gossip with you about me ques-
tion the giant squid and the
poisonous sting ray they can
tell you much about me (some of
which you may not like to hear)
let nothing be hidden you must
know me as I was before you came.
LONG AND LANGUOROUS
A whole stolen afternoon before us
no hurry no haste savoring every
sensation begin perhaps with mimi-
cry of memories of adolescence
what you learned from the boy next
door what the lady who was divorced
taught me no hurry no haste how
is it that lovemaking from long ago
can return so vividly we can still
feel certain touches hear certain
tones of voice even remember some
of the words exchanged making love
is cumulative nothing of it that
was good is really lost and yet
there can always be discoveries
little hidden paths to pleasure
no haste no hurry time for a mo-
ment's doze between enlacements
time even for a bit of joking be-
cause there is that aspect of the
ridiculous in coupling better it
all be soft and slow gentle and
generous as our afternoon speeds
on its way long and languorous.
ANIMA MEA
After we had made love
a girl with big eyes and
warm breath started to
talk about my soul hush
I said hush and beware
if I have soul it's
only a box of vanities
tied with frightened
pieces of string.
[/ezcol_1half] [ezcol_1half_end]
THE EVENING STAR
You came as a thought when I was
past such thinking. You came as a
song when I was finished singing.
You came when the sun had just begun
its setting. You were my evening star.
THE LIGHTHOUSE
You are my lighthouse. Ceaselessly
your rotations beam over the sea
and land. Birds are guided by them
and so are travelers lost in the
moors. You are my compass and light.
LITTLE SCRAPS OF LOVE
Your letters, infrequent
But so sweet, so wandering
In what they relate, are
Little scraps of love.
What would I do without them?
They're food when I'm feeling
Hungry for you, so far away.
Please pick up your pencil
As often as you can, even if
It's only for a postcard.
And don't forget the childish
Pictures of us holding hands.
A ROOM IN DARKNESS
Night is a room darkened for lovers.
The sun is gone, and our daytime concerns
and distractions with it.
Now in the darkness we are close together
As lovers are meant to be.
When we sleep or wake
Nothing intrudes between us.
We are soothed and protected
By the darkness of our room.
The first line comes from
William Carlos Williams' «Complaint».
A SECRET LANGUAGE
I wish I could talk to your body
Less cautiously; I mean in a
Language as forthright as its
Beauty deserves. Of course,
When we make love there is the
Communication of touch, fingers
On Flesh, lips on innermost
Flesh, but surely there must be
A kind of speech, body in body,
That is even deeper than such
Surface touching, a language
I haven't yet learned or haven't
learned well enough, hard as
I've tried. Will I ever master
That secret language for you?
SWEET CHILDHOOD
Why can't we pretend that
We're children who are
Playing with each other,
Not really understanding
What we're doing, but it's fun
It feels good and there is
An urgent curiosity to study
Each other's parts. Sweet childhood,
Happy time of innocence, come back
For us, bring back an hour
When everything was gentle and new.
THERE'S NEVER A NEVER
in love what once was
lovely can always return
when the storm clears or
the wind drives the clouds
away don't be hasty don't
lock the door of your heart
there's never a never in love.
THE BIRD OF ENDLESS TIME
Your fingers touch me like a bird's wing,
like the feathers of the bird that returns
every hundred years to brush against a peak
in the Himalayas until the rock's been
worn away and the kalpas are ended.
kalpas: in Hinduism an aeon.
THE COMING OF SPRING
The Spring season is approaching,
who will help me meeting with my dearest?
How shall I describe the beauty of the dearest,
Who is immersed in all beauties,
That color all the pictures of the universe…
Kabir (1440-1818),
abridged, translation by Ezra Pound from the
English of Kali Mohan Ghose.
THE CRANE
Go away, crane! Leave the garden!
You have not told my love,
the prince of the seashore,
the torment that I suffer.
Go away, crane! Leave the garden!
from the Tamil of Shilappadikaram,
Third Century A. D., translation by
Alain Danielou.
THE LOVERS
Radha looked on the god Krishna who desired only her,
who long had wanted dalliance with her. His face
was possessed with desire. It showed his passion
through tremblings of glancing eyes. It was like
a lotus pond with a pair of wagtails at play.
from the Hindu Gita-Govinda
(12th Century), translation by Keyt.
REMEMBRANCE OF HER
No man can ever pass a day in boredom
who has remembrance of her,
for she is the beginning and birth of
all joy: and he who
would praise her
no matter how well he speaks of her,
he lies!
from the troubadour Peire Vidal (1175-1205),
translation from Provençal by Paul Blackburn.
THE VISIT OF EROS
Philodemus remembers how we first made the bedlamp
tipsy with oil, then let it go out. We knew there
are times when Eros wants no witness.
We had the bed, the lover's friend, to
teach us Aphrodite's
secrets, the things of which we seldom dare to speak.
[/ezcol_1half_end]
∞
---