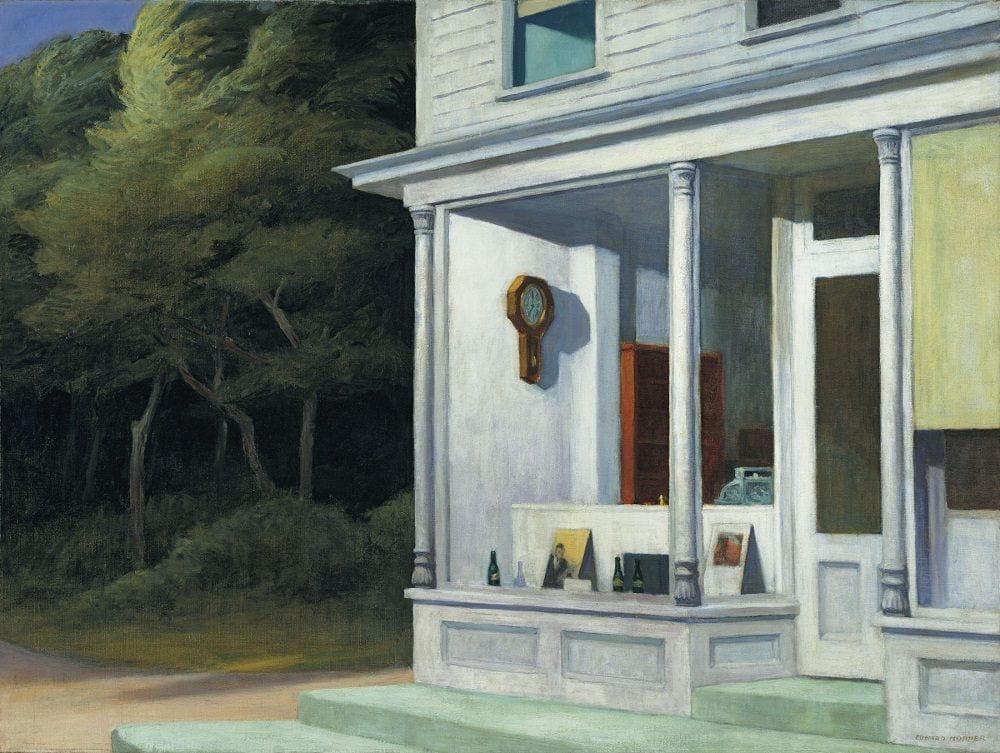 –
Seven A.M. (Siete de la mañana) 1948
Óleo sobre tela. 76,68 × 101,92 cm
Cortesía del Whitney Museum of American Art
Nueva York.
–
–
La fachada de la tienda, en Siete de la mañana, parece alegre en su blancura ordinaria, su ausencia
de trasiego, su certidumbre geométrica.
Y el trapecio que dibuja de ninguna manera es tan agudo ni tan extenso, ni tan problemático, como el
que aparece en Amanecer en Pensilvania o en Aves nocturnas. A pesar de que no nos es dado atestiguar
su resolución, no nos sentimos hechos a un lado o abandonados.
Todo indica que estamos frente a ese establecimiento porque hemos escogido estar ahí.
No existe la sensación -presente en Aves nocturnas– de que hemos llegado a ese sitio por pura casualidad.
Tampoco nos sentimos atrapados, como en Amanecer en Pensilvania. Puede que nos hayamos acercado
allí por múltiples razones, o sin razón alguna: no tiene importancia.
No hay sensación de urgencia, solo una calma geométrica. Y algo más, algo que el remilgo y la pulcritud de
la fachada del establecimiento casi parecen tener el propósito de ocultar: la masa de árboles, que conforman
la oscura, enmarañada, impenetrable presencia de la naturaleza.
Aparecen en el cuadro como una inquietante alternativa a la tienda, que remite a varios órdenes, el más obvio
de los cuales es el temporal, simbolizado por el reloj situado en el centro, mientras que el que requiere mayor
interpretación es el histórico, representado por las columnas adosadas que flanquean las lunas de vidrio de
las ventanas.
Nuestra posición, en relación a la fachada de la tienda, es más o menos la que tenemos con respecto de la cafetería
de Aves nocturnas, pero como la tienda está cerrada nos sentimos menos atraídos hacia el interior, y más dubitativos
frente a la floresta que ante las calles de la gran ciudad.
–
–
–
–
–
–
---
–
In her diary entry for September 22, 1948, Josephine Hopper recorded the completion of her husband Edward's most recent painting:
"E. has done this canvas in 16 days. I find on looking back he stretched it on Labor Day Sept. 6. This [is] a very short time."
The painting she describes, Seven A.M., depicts an anonymous storefront cast in the oblique, eerie shadows and cool light of early
morning. If the fullness of summer is suggested by the lush foliage at the left, the mood is decidedly off-season and desolate. The store's
shelves stand empty, and the few odd products displayed in the window provide no evidence of the store's function.
A clock on the wall confirms the time given in the title, and indeed the painting seems to depict a specific moment and place. Yet a series
of Hopper's preparatory sketches reveal that he experimented with significant compositional variations, depicting a figure in the second-story
window. He even considered setting the painting at another time of day. Josephine Hopper described the storefront as a "blind pig," a
front for some illicit operation, perhaps alluding to the painting's forbidding overtones.
–
–
–
---