paul muldoon
poemas 1968-1998
2011
by faber and faber ltd
london
new weather 1973
mules 1977
why brownlee left 1980
quoof 1983
meeting the british 1987
madoc: a mystery 1990
the annals of chile 1994
hay 1998
Este libro comprende los textos completos de las ocho principales colecciones de poesía que he publicado
durante los últimos treinta años, desde New Weather (1973) hasta Hay (1998).
No incluye el trabajo no coleccionado que apareció en revistas y en una serie de pequeñas publicaciones
provisionales: libretos de ópera escritos en verso, drama en verso, poemas para niños, Kerry Slides y El príncipe
de lo cotidiano, una secuencia periodística que salió a la luz en 1994.
Por lo tanto, no debe considerarse un volumen «completo» o «recopilado», sino más bien una puesta a disposición
de los volúmenes a los que me refiero, varios de los cuales no están impresos en el Reino Unido, Irlanda
o los Estados Unidos Estados.
Aparte de corregir errores fácticos tales como haber escrito «dolorosamente» por «minuciosamente», «batiscopio»
por «batisfera», «Ranus ranus» por «Rana temporaria», «jardonelle» por «jerga» y «aureolas» por "Areolae", apenas
he realizado cambios en los textos de los poemas, ya que estoy bastante seguro de que, después de poco tiempo,
la persona a través de la cual se escribió un poema no tiene más derecho a hacer revisiones que cualquier otro lector.
paul muldoon
paul muldoon
poems 1968-1998
new weather 1973
antología de poesía actual británica
traducida por Carlos López Beltrán
y Pedro Serrano
ediciones Trilce
[ezcol_1half]    
erizo
El caracol se mueve como un
aerodeslizador, que se eleva
sobre un colchón de caucho propio
y comparte su secreto
con el erizo. El erizo
no comparte su secreto con nadie.
Le decimos, Erizo, sal
de ti mismo y te amaremos.
No queremos hacerte daño. Sólo
queremos oír aquello
que tengas que decir. Queremos
tus respuestas a nuestras preguntas.
El erizo no suelta nada,
se mete en sí mismo.
Nos intriga qué tiene que ocultar
un erizo, qué lo hace desconfiar.
Olvidamos al dios
bajo esta corona de espinas.
Olvidamos que nunca más
confiará en el mundo un dios. [/ezcol_1half] [ezcol_1half_end] 
hedgehog
The snail moves like a
Hovercraft, held up by a
Rubber cushion of itself,
Sharing its secret
With the hedgehog. The hedgehog
Shares its secret with no one.
We say, Hedgehog, come out
Of yourself and we will love you.
We mean no harm. We want
Only to listen to what
You have to say. We want
Your answers to our questions.
The hedgehog gives nothing
Away, keeping itself to itself.
We wonder what a hedgehog
Has to hide, why it so distrusts.
We forget the god
Under this crown of thorns.
We forget that never again
Will a god trust in the world.[/ezcol_1half_end]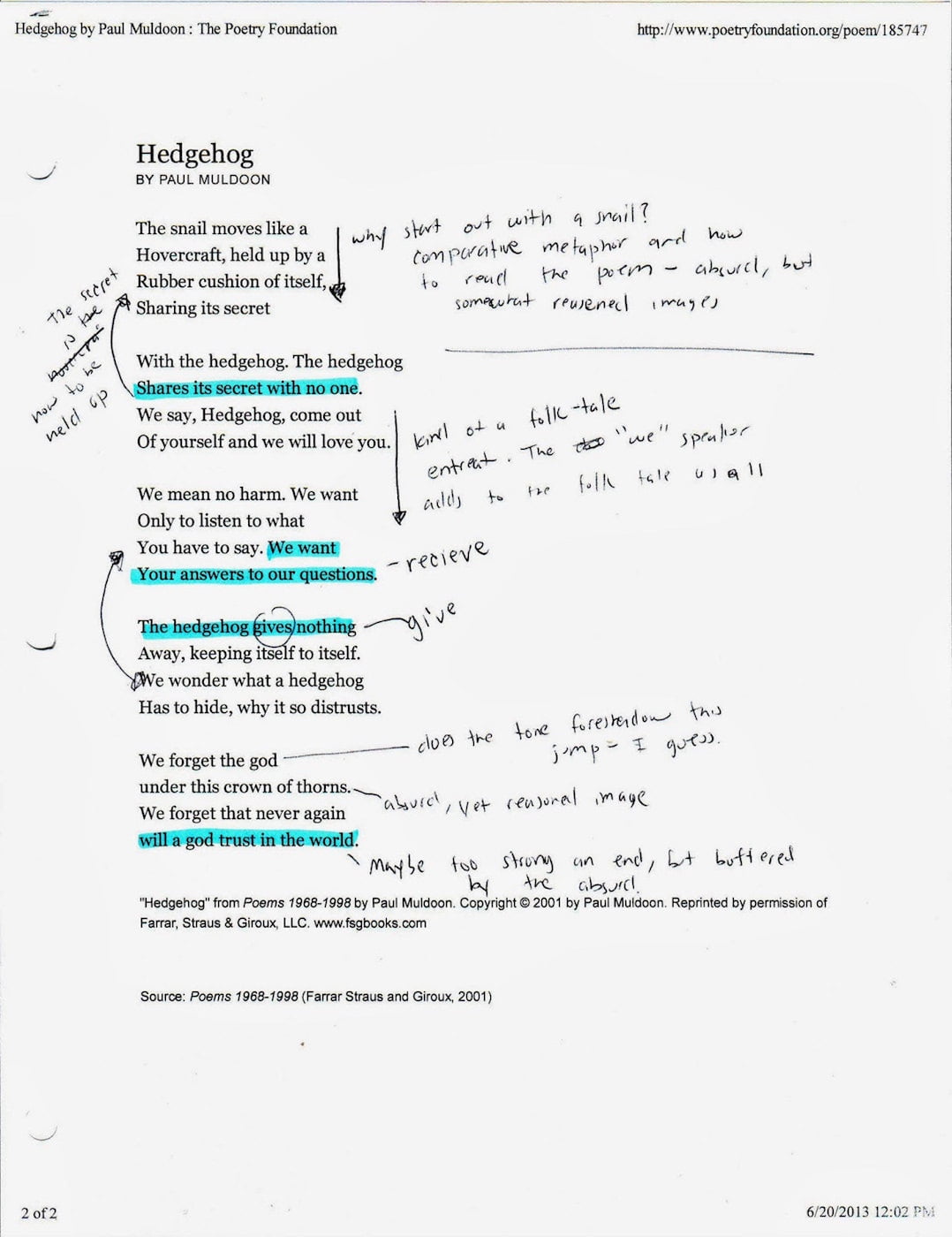 •