[dejemos hablar al traductor, Jordi Doce, que tiene algo que decirnos
sobre el poema y el poeta:
«No es habitual, pero a veces ocurre. De hecho, debería ocurrir más a menudo. Quiero decir, uno vuelve sobre un antiguo poema, una traducción realizada –e incluso publicada– hace años, y la tentación inmediata es cambiar palabras, corregir este o aquel verso, optar por nuevas soluciones. Me pasó no hace mucho con un poema de Peter Redgrove (1932-2003) que colgué en esta bitácora hace exactamente cinco años.
En realidad, los poemas de Redgrove me han planteado siempre muchos problemas, como si el estado de flujo en el que parecen haber sido escritos –según confesión del autor– los volviera escurridizos o resistentes a la traducción.
Supongo que es también cuestión de torpeza (la mía, por supuesto).
El caso es que me encontré con este poema, «En el huerto», y cuando me di cuenta había reescrito la mitad de los versos. Así que vuelvo a publicarlo aquí. Podría dar para una curiosa sesión del taller de escritura creativa. Todos los cambios, por definirlos o resumirlos en pocas palabras, apuntan a un solo propósito: buscar la máxima precisión, arrimarse lo más posible al original sin dejar de estar atento a lo que la traducción misma puede aportar; en este caso, los últimos versos, esos «hasta que muerdo negro / y sale blanco», que suenan –creo– más concisos y hasta más vivaces que en inglés. Me gusta el modo en que el endecasílabo queda trunco y prepara la cita bíblica del final. No descarto, con todo, verme con una nueva versión de este poema dentro de cinco años.»]
[ezcol_1half]    
peter redgrove
en el huerto
Manzanos como un arrecife de coral
tras los cálidos muros de arenisca
que les permiten madurar. Hablamos
en susurros de la negrura
destilada en los frutos,
la carga basculante del ramaje
como pechos palpables bajo una blusa verde.
Igual que duerme el ojo
duerme el fruto en su párpado perfecto,
hasta que muerdo negro y sale
blanco, diciendo
«Hágase la luz».
[/ezcol_1half] [ezcol_1half_end]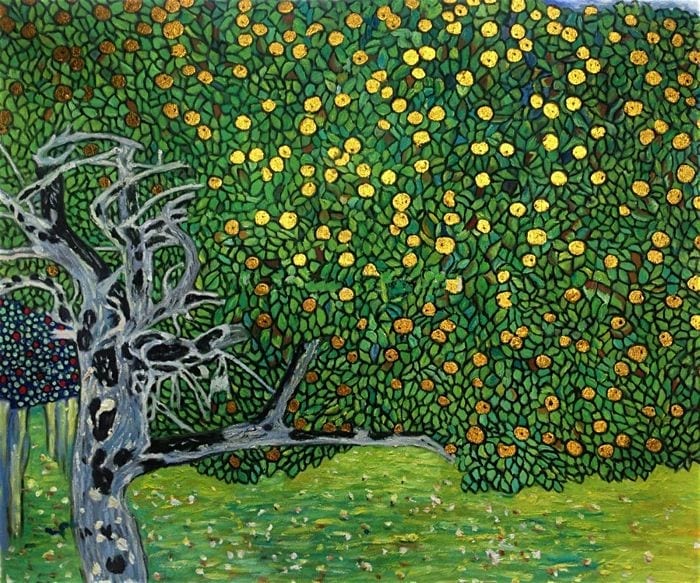 orchard end
Apple-trees coralled behind
The warm stone walls that help
To ripen them. We discuss
In whispers the spirituous dark
Within the fruit, the boughs
Librating their poundage
Like heavy bosoms in a green shirt.
As an eye sleeps each apple
Sleeps in its seamless lid
Until I bite into the black, turning it
To white, saying
'Let there be light.'
[/ezcol_1half_end]
---