–
[ezcol_1half]           
–
Canción
–
–
El peso de este mundo
es el amor.
Debajo de la carga de la soledad,
debajo de la carga
de la insatisfacción
–
el peso,
el peso que cargamos
es amor.
–
¿Quién podría negarlo?
Toca al cuerpo en los sueños,
crea milagros en el pensamiento,
en la imaginación padece
hasta que se concreta en otro cuerpo
-y mira desde el corazón
ardiente en su pureza-
porque la carga de la vida
es el amor;
–
sin embargo llevamos la carga con fatiga,
por eso es que debemos descansar finalmente
en brazos del amor,
descansar en los brazos del amor.
–
Sin amor no hay descanso,
no se duerme sin sueños
de amor-
Y aunque estés loco, obsesionado
con ángeles o máquinas,
el deseo final es el amor.
–
-Nunca es amargo,
y no sabe negarse,
no sabe contenerse aunque lo nieguen
-es demasiado el peso.
–
-Y da sin esperar a cambio nada,
así como la idea nos es dada en soledad
en toda la excelencia de su exceso.
–
Los cuerpos tibios brillan juntos en lo oscuro,
la mano busca el centro de la carne,
la piel tiembla feliz
y el alma llega alegre al ojo-
–
Sí, sí,
esto es lo que quería,
es lo que siempre quise,
volver
al cuerpo
en que nací.
[/ezcol_1half][ezcol_1half_end]          
.
Song
–
–
The weight of the world
is love.
Under the burden of solitude,
under the burden
of dissatisfaction
–
the weight,
the weight we carry
is love.
–
Who can deny?
In dreams it touches the body,
in thought constructs a miracle,
in imagination anguishes
till born in human
– looks out of the heart
burning with purity-
for the burden of life
is love,
–
but we carry the weight wearily,
and so must rest in the arms of love
at last,
must rest in the arms of love.
–
No rest without love,
no sleep without dreams
of love-
be mad or chill obsessed
with angels or machines,
the final wish is love
–
-cannot be bitter,
cannot deny,
cannot withhold if denied:
–
the weight is too heavy
–
-must give for no return
as thought is given in solitude
in all the excellence of its excess.
–
The warm bodies shine together in the darkness,
the hand moves to the center of the flesh,
the skin trembles in happiness
and the soul comes joyful to the eye–
–
yes, yes,
that's what I wanted,
I always wanted,
I always wanted,
to return to the body where I was born.
[/ezcol_1half_end]
[ezcol_1half]
–
Allen Ginsberg
–
Canción
Aullido y otros poemas
Visor Libros
Madrid 1981
Traducción de Alejandro Crotto
–
[/ezcol_1half]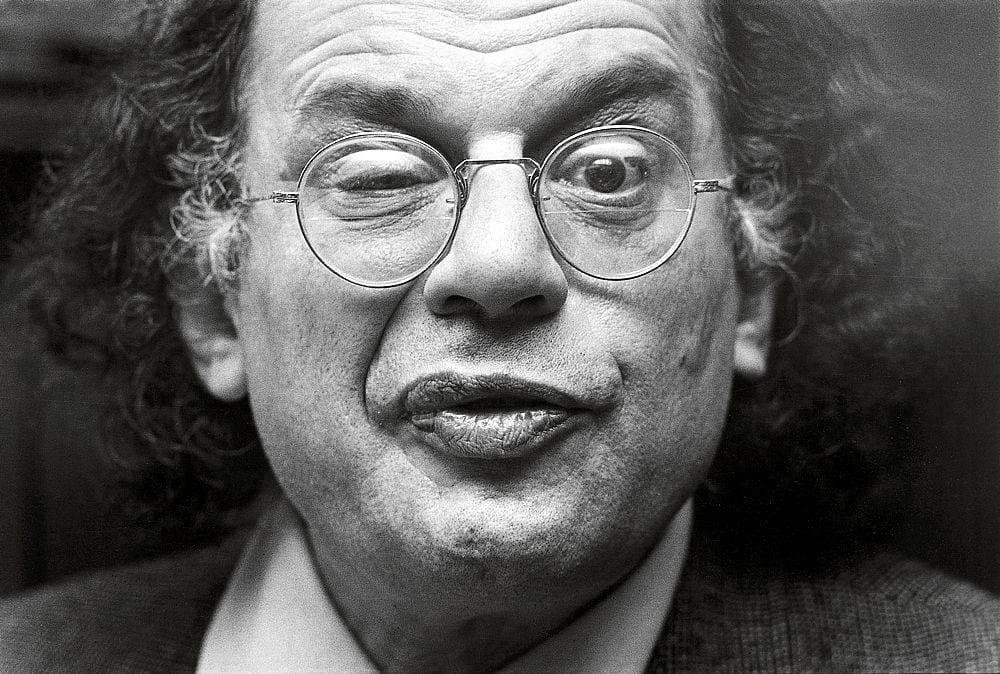 ---