Pieter Brueghel, Hunters in the snow (1565)
Oil on canvas, 46 inches x 63.75 inches. Kunsthistorisches Museum, Vienna
–
---
[ezcol_1half]  
–
–   
Además del poema que William Carlos Williams escribió, y al que tituló
también Cazadores en la nieve [nuestra versión está aquí], existen versiones
de otros poetas basadas o inspiradas en el mismo cuadro. 
–
Así, John Berryman, en 1948, escribió Winter Landscape, incluido en 
Los desposeídos:
The three men coming down the winter hill

In brown, with tall poles and a pack of hounds

At heel, through the arrangement of the trees,

Past the five figures at the burning straw,

Returning cold and silent to their town,
–
Returning to the drifted snow, the rink

Lively with children, to the older men,

The long companions they can never reach,

The blue light, men with ladders, by the church

The sledge and shadow in the twilit street,
–
Are not aware that in the sandy time

To come, the evil waste of history

Outstretched, they will be seen upon the brow

Of that same hill: when all their company

Will have been irrecoverably lost,
–
These men, this particular three in brown

Witnessed by birds will keep the scene and say

By their configuration with the trees,

The small bridge, the red houses and the fire,

What place, what time, what morning occasion
–
Sent them into the wood, a pack of hounds

At heel and the tall poles upon their shoulders,

Thence to return as now we see them and

Ankle-deep in snow down the winter hill

Descend, while three birds watch and the fourth flies.
–
En español, se puede traducir tal que:
Paisaje invernal
Los tres hombres que descienden por la colina invernal
en ropajes marrones, con largas pértigas y una jauría
pegada a los talones, a través de la disposición de los árboles,
pasadas las cinco figuras junto a la hojarasca quemándose,
regresando fríos y callados a su ciudad,
–
regresando a la nieve amontonada, la pista de hielo
alegre y llena de niños, a los mayores,
los anhelados compañeros que nunca pueden alcanzar,
la luz azul, hombres con escaleras, cerca de la iglesia
el trineo y la sombra en la calle crepuscular,
–
no saben que en el arenoso tiempo
que ha de venir, ocurrido ya el grosero menoscabo
de la historia, serán vistos sobre la cima
de esa misma colina: cuando toda su compañía
se haya perdido sin remedio,
–
estos hombres, en particular estos tres vestidos de marrón
a los que los pájaros observan, conservarán la escena y nos dirán
a partir de su configuración con los árboles,
el pequeño puente, las casas rojas y el fuego,
qué lugar, qué tiempo, qué ocasión matutina
–
los envió al bosque, una jauría
pegada a los talones y las largas pértigas sobre los hombros,
para de allí volver tal como ahora los vemos y
con nieve hasta las rodillas descender la colina
invernal, mientras tres pájaros los observan y un cuarto alza el vuelo.
–
La traducción es de Andrés Catalán
–
[/ezcol_1half] [ezcol_1half_end]
–
–
Por su parte, Aníbal Núñez escribió también su punto de vista en un
poema que tituló Regreso de los cazadores (en Figura en un paisaje, de 1974):
–
–
Podemos esperar a que desciendan
la colina los pobres cazadores
y su hambrienta jauría que no tiene
ni para un mal bocado con la única
liebre cobrada para tanto blanco.
–
Y acercarnos al fuego que alimentan
los mesoneros bajo el colgadizo.
–
Y, mientras esperamos, deslizar
la mirada por todos los canales
helados, por el cielo
verde, por las montañas que rechazan
la nieve de lo abruptas;
ver los patinadores del domingo
—¡qué caída se ha dado aquél!—, el puente
por donde pasa la mujer del loco
cargada con un haz de leña. Cuatro
campanarios se ven, una carreta
por el camino principal, un hombre
allá a lo lejos solo, la escalera
del deshollinador y los tejados
blancos y…¡mira el humo cómo sale!
–
Podemos esperar —ya están llegando
al puente de ladrillo— a que se pierdan
de vista tras la casa del herrero.
Y saltar por encima de la zarza
y coger la pendiente —¡hasta se puede
bajar rodando! — hasta el canal más próximo.
–
Sí, porque, aunque tengo frío y cien florines
en la bolsa, me da muy mala espina
el que esté desprendido el rótulo de un lado
y la ventana abierta.
–
No, porque —y como señal de que no debo
moverme de mi sitio— cada poco
cruzan por turno el aire las urracas
descuideras, tachando la posible
apacibilidad con una línea
de tinta negra (el blanco de su vientre
sin querer se confunde con la nieve).
–
[/ezcol_1half_end]
–
–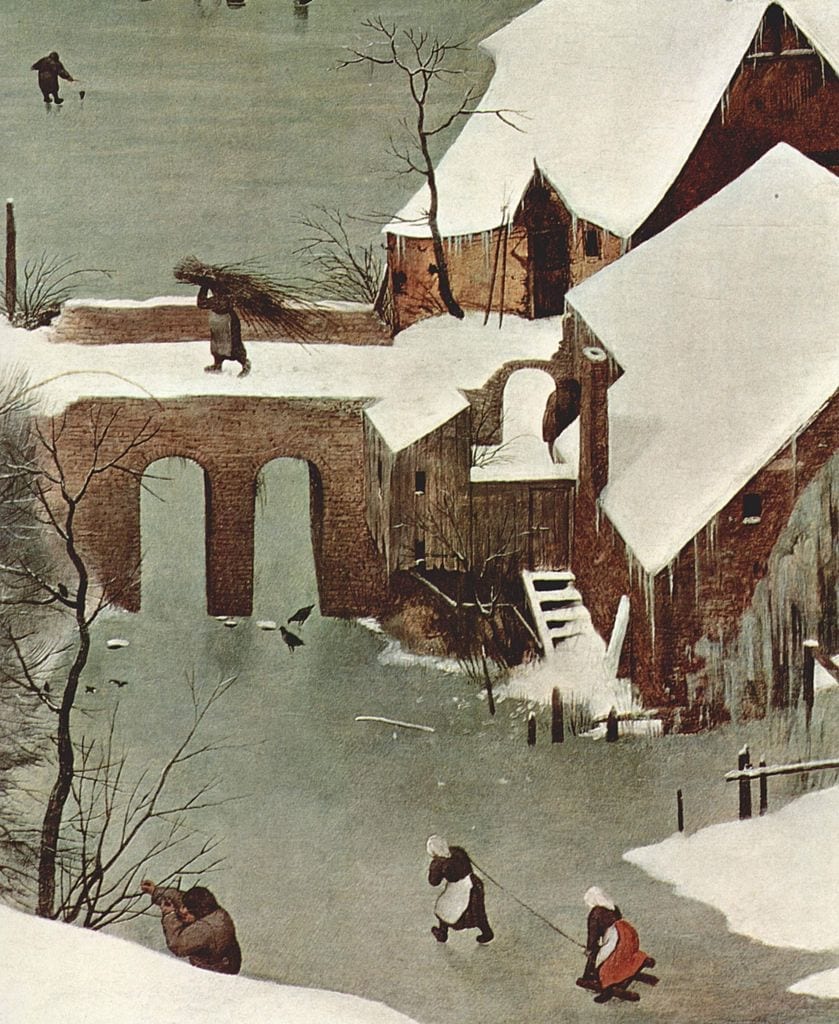 ---