–
[ezcol_1half]                   
–
los más raros
–
no es frecuente verlos
porque donde hay multitud
ellos
no están.
Esos tipos raros no son
muchos,
pero de ellos
provienen
los pocos
cuadros buenos
las pocas
buenas sinfonías
los pocos
buenos libros
y otras
obras.
Y de los
mejores de los
extraños
quizás
nada.
Ellos son
sus propias
pinturas
sus propios
libros
su propia
música
su propia
obra.
A veces me parece
verlos
por ejemplo
cierto viejo
sentado en cierto
banco
de una cierta
manera
o
un rostro fugaz
en un automóvil
que pasa
en dirección
contraria
o
hay un cierto movimiento
en las manos
de un chico o una chica
que empaqueta
las cosas
en el supermercado.
A veces
incluso es alguien
con quien estuviste
viviendo
algún tiempo,
te vas a dar cuenta
de una mirada rápida
y luminosa
que nunca
le habías visto
antes.
A veces
sólo notarás
su
existencia
repentinamente
en un
vívido
recuerdo.
Algunos meses
algunos años
después de que se hayan
ido.
Recuerdo
a uno:
Tenía unos
20 años
iba borracho a
las 10 de la mañana
se miraba en un
espejo
resquebrajado
de Nueva Orleans,
un rostro soñador
contra los
muros
del mundo
¿Qué
ha sido
de mí?.
[/ezcol_1half][ezcol_1half_end]
–
the strongest of the strange
–
you won't see them often
for wherever the crowd is
they
are not.
those odd ones, not
many
but from them
come
the few
good paintings
the few
good symphonies
the few
good books
and other
works.
and from the
best of the
strange ones
perhaps
nothing.
they are
their own
paintings
their own
books
their own
music
their own
work.
sometimes I think
I see
them – say
a certain old
man
sitting on a
certain bench
in a certain
way
or
a quick face
going the other
way
in a passing
automobile
or
there's a certain motion
of the hands
of a bag-boy or a bag-
girl
while packing
supermarket
groceries.
sometimes
it is even somebody
you have been
living with
for some
time –
you will notice
a
lightning quick
glance
never seen
from them
before.
sometimes
you will only note
their
existance
suddenly
in
vivid
recall
some months
some years
after they are
gone.
I remember
such a
one –
he was about
20 years old
drunk at
10 a.m.
staring into
a cracked
New Orleans
mirror
facing dreaming
against the
walls of
the world
where
did I
go?
 [/ezcol_1half_end]
 [ezcol_1half] 
–
charles bukowski
–
los más raros
nuestras versiones
–
[/ezcol_1half]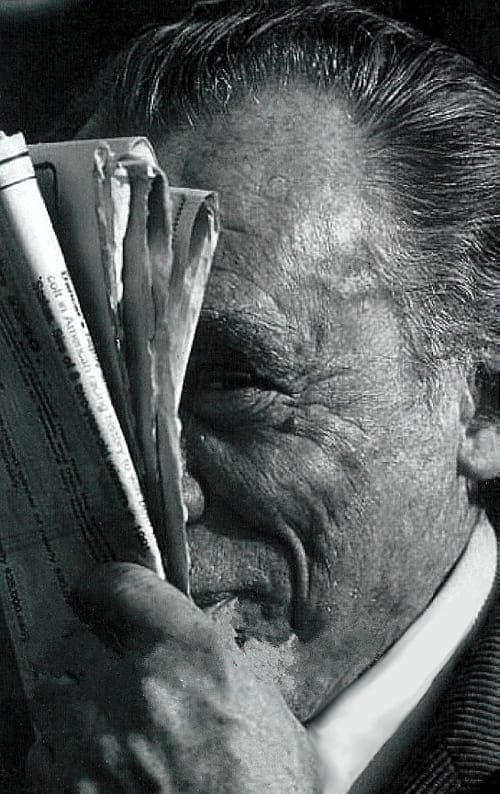 ---