[ezcol_3quarter]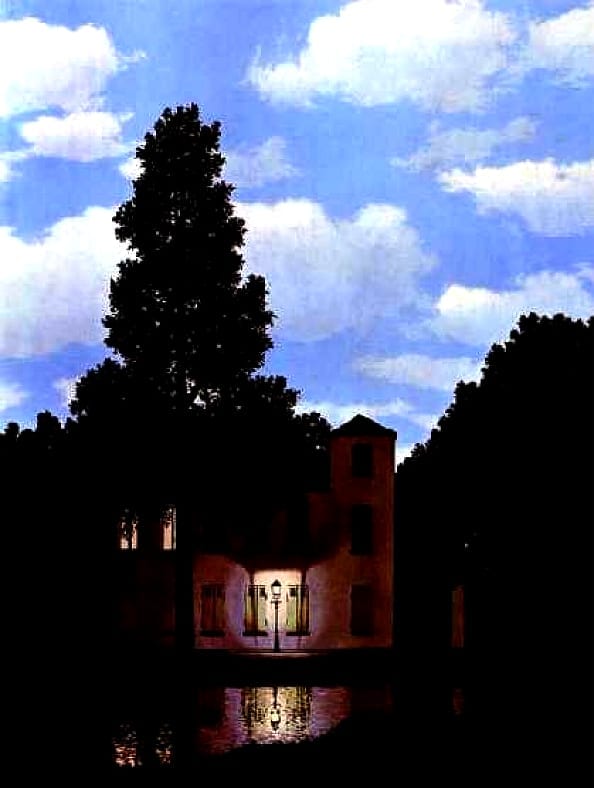 [/ezcol_3quarter] [ezcol_1quarter_end][/ezcol_1quarter_end] [ezcol_1half]        
–
El refugio del mago
–
–
de moderada altura,
(lo he visto)
sombrío pero brillante por dentro
como una piedra lunar,
mientras un destello amarillo
desde la grieta de una contraventana
y un destello azul desde el farol
junto a la puerta principal brillaban.
No daba pie a ninguna queja,
no se podía pedir más,
consumadamente sencillo.
–
La mole negra de un rosal en la parte de atrás
casi tocando los aleros
con la exactitud de un Magritte,
era ante todo discreto.
[/ezcol_1half] [ezcol_1half_end]     
–
–
The magician's retreat
–
–
of moderate height,
(I have seen it)
cloudy but bright inside
like a moonstone,
while a yellow glow
from a shutter-crack shone,
and a blue glow from the lamppost
close to the front door.
It left nothing of which to complain,
nothing more to obtain,
consummately plain.
–
A black tree mass rose at the back
almost touching the eaves
with the definiteness of Magritte,
was above all discreet.
 [/ezcol_1half_end]
–
El refugio del mago
Marianne Moore
–
Versión de Olivia de Miguel
–
Sobre el cuadro:
–
El imperio de la luz, 1954
René Magritte
Musées Royaux des Beaux-Arts, Bruselas
–
---