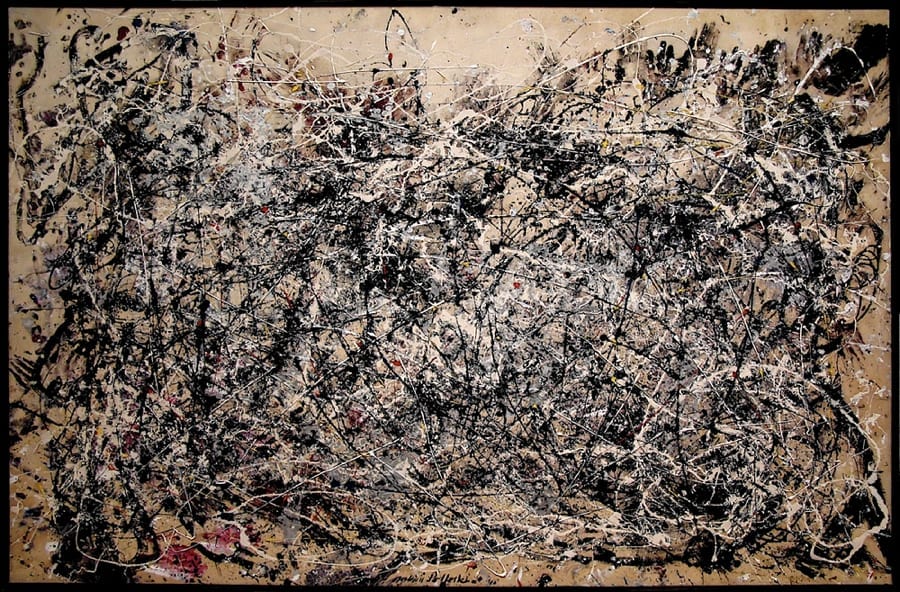 ---
[ezcol_1half]          
Número uno de Jackson pollock, 1948
–
Sin nombre, solo un número.
Hilos y valles de pintura
traman este laberinto
en un juego del Monopoly
sin ningún banco. En
un linóleo sobre el suelo
de algún sueño. En
murales dentro de la mente.
No hay símiles. Nada
salvo pintura. Tal pureza
pone a prueba el poema que habla
aún de algo en algún lugar
o algún momento.
¿Cómo comprender su pregunta
y menos su respuesta?
[/ezcol_1half][ezcol_1half_end]
–
Number one by Jackson Pollock, 1948
–
No name but a number.
Trickles and valleys of paint
Devise this maze
Into a game of Monopoly
Without any bank. Into
A linoleum on the floor
In a dream. Into
Murals inside of the mind.
No similes here. Nothing
But paint. Such purity
Taxes the poem that speaks
Still of something in a place
Or at a time.
How to realize his question
Let alone his answer?
[/ezcol_1half_end]
–
–
Nancy Sullivan
–
Número 1 de Jackson Pollock
Traducción de Silvina Aprea
Saltana, nº 1
–
---
Autor: Jackson Pollock (Cody, Wyoming,1912 – Long Island, 1956)
Estilo: Expresionismo abstracto
Localización geográfica:
Museo de Arte moderno de Nueva York
Date: 1948
Medium: Oil and enamel paint on canvas
Dimensions: 68″ x 8′ 8″ (172.7 x 264.2 cm)
MoMA Number: 77.1950
Copyright:
© 2014 Pollock-Krasner Foundation / Artists Rights Society (ARS), New York
–
---