–
[ezcol_1half]       
–
dream of rimbaud
–
–
I am a widow, could be charleville could be anywhere,
move behind the plow, the fields, young arthur lurks
about the farmhouse (roche?) the pump the artesian
well, throws green glass alias crystal broken,
gets me in the eye.
–
I am upstairs, in the bedroom bandaging my wound, he
enters, leans against the four-poster, his ruddy cheeks,
contemptuous air big hands. I find him sexy as hell,
how did this happen he asks casually, too casually.
I lift the bandage, reveal my eye a bloodied mess;
a dream of Poe. he gasps.
–
I deliver it hard and fast, someone did it. you did it.
he falls prostrate, he weeps he clasps my knees. I grab
his hair, it all but burns my fingers, thick fox fire,
soft yellow hair, yet that unmistakable red tinge,
rubedo. red dazzle, hair of the One.
–
Oh jesus I desire him. filthy son of a bitch, he licks
my hand. I sober, leave quickly your mother waits, he
rises, he's leaving, but not without the glance, from
those cold blue eyes, that shatters, he who hesitates
is mine, we're on the bed. I have a knife to his smooth
throat. I let it drop, we embrace. I devour his scalp,
lice fat as baby thumbs, lice the skulls caviar.
–
Oh arthur arthur. we are in Abyssinia Aden, making love
smoking cigarettes, we kiss, but its much more, azure,
blue pool, oil slick lake, sensations telescope, animate,
crystalline gulf, balls of colored glass exploding,
seam of berber tent splitting, openings, open as a cave,
open wider, total surrender.
–
1973
–
[/ezcol_1half] [ezcol_1half_end]  
–
–
sueño de rimbaud
–
soy viuda. podría ser charleville. podría ser cualquier parte.
me muevo detrás de los arados. los campos. el joven arthur merodea
por la granja (¿roche?) la bomba el pozo
artesiano. lanza vidrio verde conocido como desecho de cristal.
me pega en el ojo.
–
estoy arriba en la habitación vendando mi herida. él
entra. se apoya contra el dosel. sus mejillas rosadas.
aire desdeñoso manos grandes. lo encuentro endiabladamente sexy.
cómo ocurrió pregunta indiferente. demasiado indiferente.
levanto el vendaje. muestro mi ojo ensangrentado hecho un desastre,
un sueño de Poe. se queda asombrado.
–
se lo explico rápida bruscamente. alguien me lo hizo. tú me lo hiciste.
se cae sobre la cama. llora. me coge por las rodillas. lo cojo del pelo. que no
hace sino arder en mis dedos. fuego espeso de zorro. suave pelo amarillo.
pero ese inconfundible tono rojo. rúbeo. reflejo rojo. pelo de Él.
–
oh, jesús, cómo lo deseo, sucio hijo de perra. lame
mi mano. me sereno. ve rápido tu madre espera. se
levanta. se está yendo. pero no sin la mirada de
esos fríos ojos azules que destroza. ese que duda
es mío. estamos sobre la cama. le he puesto un cuchillo en el
delicado cuello. dejo que gotee. nos abrazamos. devoro su cuero cabelludo.
piojos gordos como pulgares de bebé. piojos caviar de cráneo.
–
oh, arthur, arthur, estamos en Abisinia Adén. haciendo el amor
fumando cigarrillos. nos besamos. pero es mucho más. azur.
charco azul. denso lago de aceite. las sensaciones se condensan, se avivan.
golfo cristalino. bolas de cristal de colores que explotan.
la costura de la tienda beréber se deshilacha. aberturas, abiertas como una
cueva, se abren más, entrega total.
[/ezcol_1half_end]
[ezcol_1half]   
–
Patti Smith
–
Sueño de Rimbaud
Babel, 2ª edición
Anagrama 1996 Barcelona
The Oxford Book of American Poetry
Oxford University Press, Inc., 2006
–
[/ezcol_1half]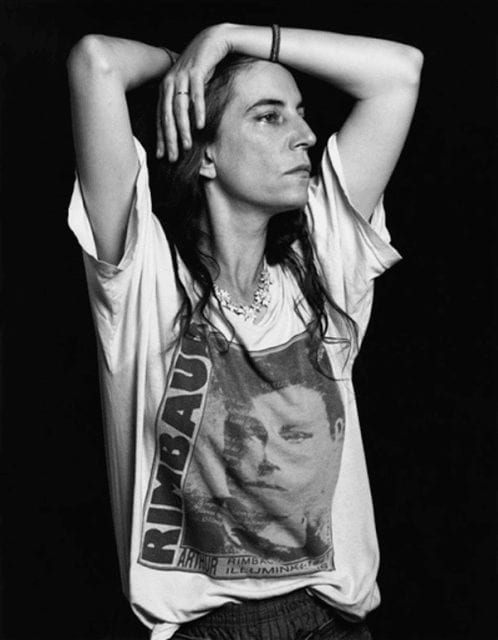 ---