–
[ezcol_1half]         
–
–
Si, mi amada
–
–
–
Si mi amada algún día se decidiera
a no quedarse en mis ojos,
y saltar, como Alicia, la falda flotando dentro de mi cabeza,
no encontraría sillas ni mesas,
ni aparadores de caoba con patas de animal,
ni ascuas sin remover;
el mueble bar no estaría surtido, ni acogedor el lugar junto al fuego,
no abarrotarían los estantes misales de letra pequeña,
ni habría un mayordomo borrachín, ni doncellas haraganas:
se vería enredada en el lento avance de una luz indecisa,
marrón simio, gris pescado, una ristra de círculos infectados
merodeando como matones, a punto de coagularse;
ilusiones que se encogen al tamaño de un guante de mujer,
y se extienden como una mancha hacia fuera. También observaría
el suelo malsano, como la piel de una tumba,
del que asciende una pegajosa sensación de traición,
una estatua griega pateada en las partes, dinero,
la comida para cerdos de los buenos sentimientos. Pero sobre todo
se taparía los oídos ante el incesante recital
entonado por la realidad, lardeado de términos técnicos,
todos con la doble yema del sentido y la refutación del sentido:
pues la murga de ese boletín deshace el mundo como un nudo,
y oír que el pasado ya ha pasado y el futuro es neutro
podría derribar a mi amada de su inapreciable pivote.
 [/ezcol_1half][ezcol_1half_end]     
–
–
–
If, my darling
–
–
–
If my darling were once to decide
Not to stop at my eyes,
But to jump, like Alice, with floating skirt into my head,
She would find no tables and chairs,
No mahogany claw-footed sideboards,
No undisturbed embers;
The tantalus would not be filled, nor the fender-seat cosy,
Nor the shelves stuffed with small-printed books for the Sabbath,
Nor the butler bibulous, the housemaids lazy:
She would find herself looped with the creep of varying light,
Monkey-brown, fish-grey, a string of infected circles
Loitering like bullies, about to coagulate;
Delusions that shrink to the size of a woman's glove,
Then sicken inclusively outwards. She would also remark
The unwholesome floor, as it might be the skin of a grave,
From which ascends an adhesive sense of betrayal,
A Grecian statue kicked in the privates, money,
A swill-tub of finer feelings. But most of all
She'd be stopping her ears against the incessant recital
Intoned by reality, larded with technical terms,
Each one double-yolked with meaning and meaning's rebuttal:
For the skirl of that bulletin unpicks the world like a knot,
And to hear how the past is past and the future neuter
Might knock my darling off her unpriceable pivot.
[/ezcol_1half_end]
–
[ezcol_1half]   
–
–
Philip Larkin
–
Si, mi amada
Poesía Reunida
Engaños
The Complete Poems, Archie Burnett, ed.
Nueva York, Farrar, Strauss and Giroux, 2012
Versiones de Damián Alou y Marcelo Cohen
Lumen
–
[/ezcol_1half]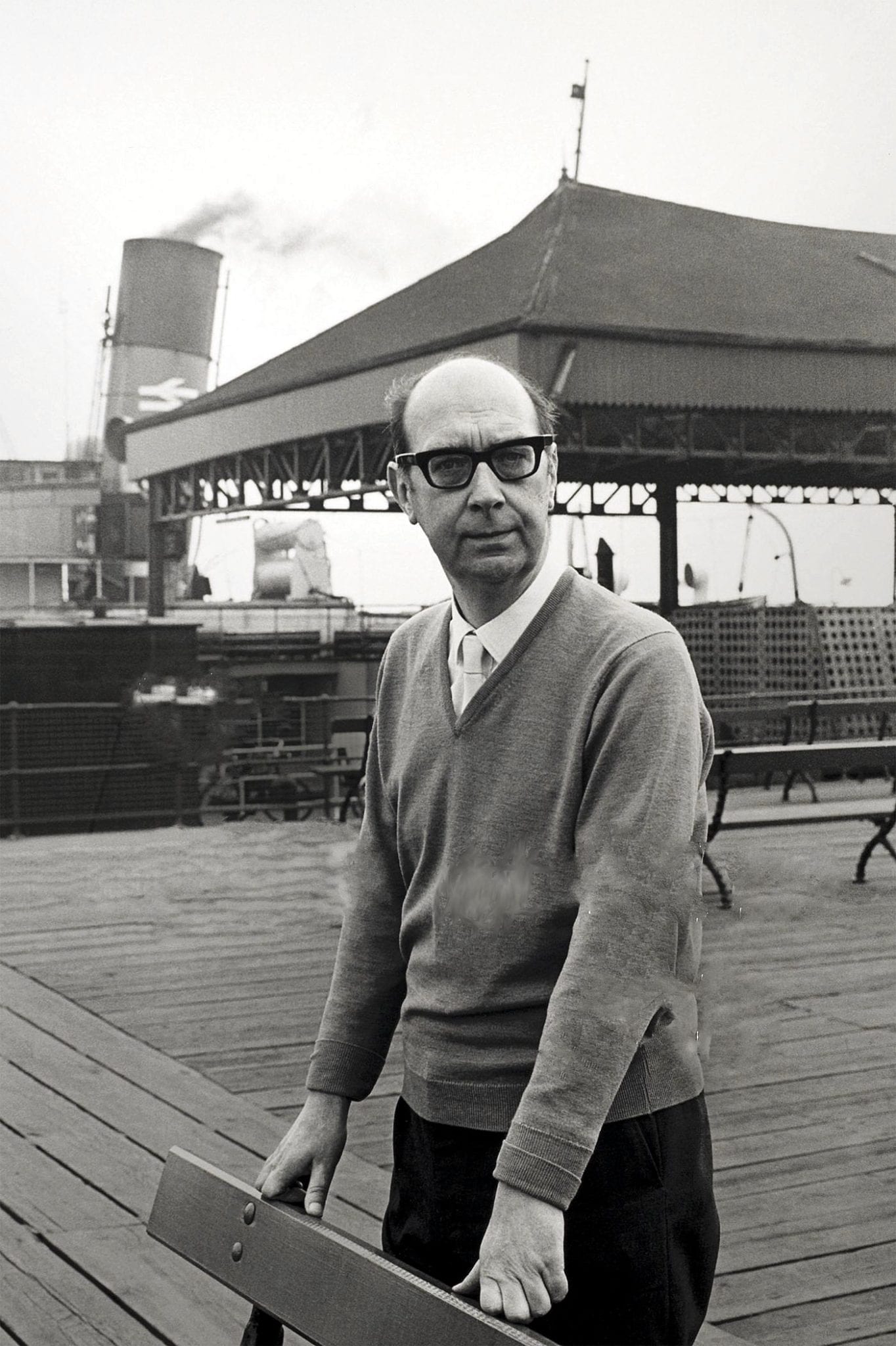 ---