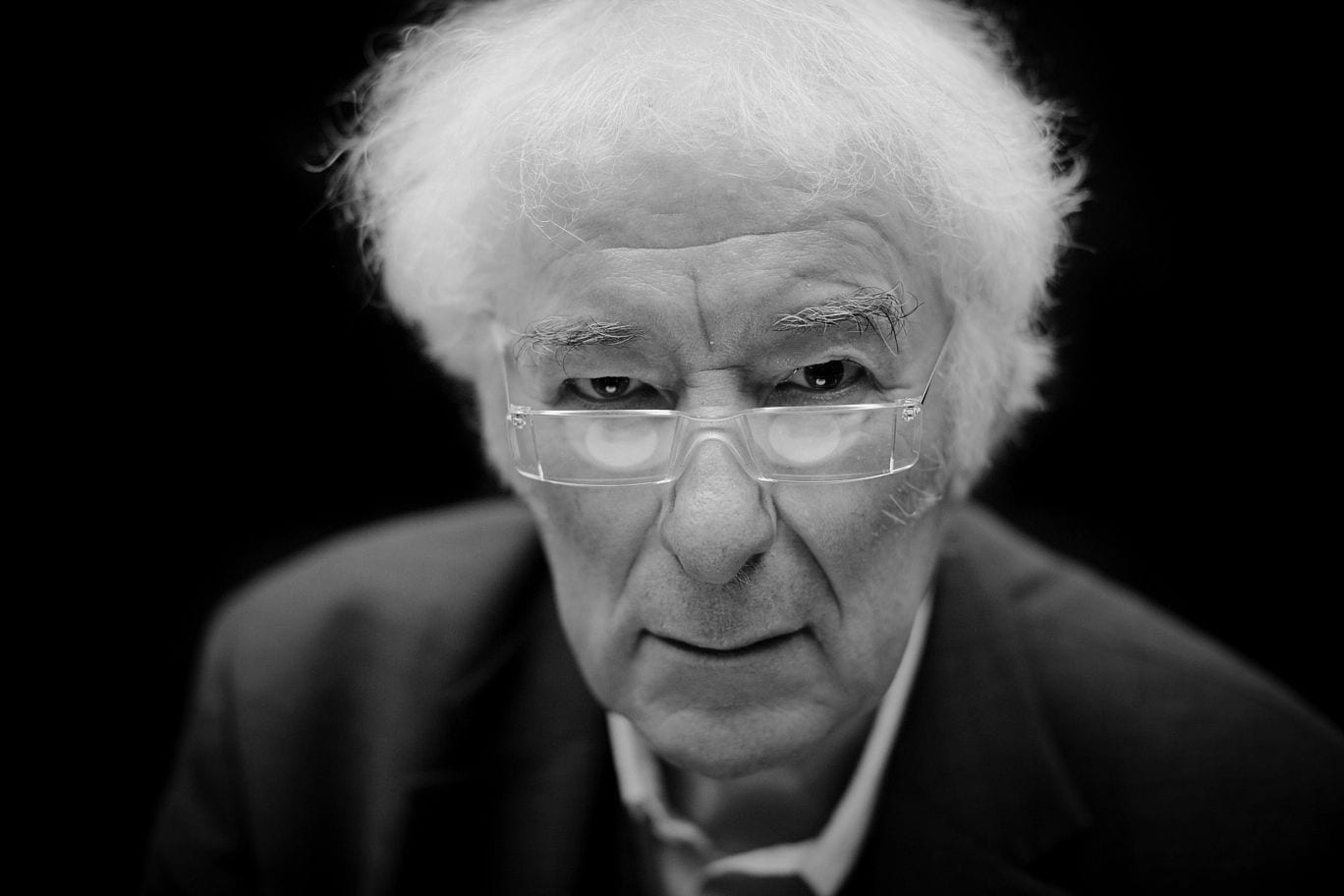 –
[ezcol_1half]       
–
–
fotografía ancestral
–
–
Mandíbulas fuertes y redondeadas como un nabo,
Los ojos muertos son de estatua y el labio superior
Intimida la poderosa boca y la inclina hacia abajo.
Un sombrero hongo sugiere al irlandés de teatro
Cuyo aspecto tiene dos partes de desdén y dos de inexpresivo.
La cadena del reloj de plata le ciñe cual argolla.
–
El tío de mi padre, de quien él aprendió el oficio,
Durante largo tiempo fijado en tintas sepia, comienza a marchitarse
Y debemos bajarlo. Ahora en la pared del dormitorio
Donde él ha estado hay un descolorido parche,
Como si se hubiera quitado un vendaje de la piel,
Placa vacía del ascenso y caída de una casa.
–
Hace veinte años yo cuidaba ganado
En los rediles o lo mantenía contra una tapia
Hasta que mi padre logró imponer su precio
Ante una multitud de ganaderos
Que tanteaban lomos, palpaban ubres, aguantaban, dudaban y luego
Pagaban una ronda para cerrar el trato.
–
Tío y sobrino, hace cincuenta años,
Apriscaban y cuidaban del ganado incluso los días de feria.
Este tonel de hombre estaba confinado en aquel marco:
Le veo garboso con su sombrero echado hacia atrás
Sacando los pulgares del chaleco, chasquea los dedos
Con decisión, y trato hecho. Te he visto hacer lo mismo, padre,
–
Y he observado que te entristecías cuando las ferias concluían.
No hay lugar para tratantes si los granjeros comerciaran
Como amas de casa en una subasta. Tu bastón
Estaba colocado detrás de la puerta, y allí está todavía.
Para cerrar este capítulo de nuestra crónica
Me llevo el retrato del tío al desván.
 [/ezcol_1half] [ezcol_1half_end]  
–
–
ancestral photograph
–
–
Jaws puff round and solid as a turnip,
Dead eyes are statue's and the upper lip
Bullies the heavy mouth down to a droop.
A bowler suggests the stage Irishman
Whose look has two parts scorn, two parts dead pan.
His silver watch chain girds hint like a hoop.
–
My father's uncle, from whom he learnt the trade,
Long fixed in sepia tints, begins to fade
And must come down. Now on the bedroom wall
There is a faded patch where he has been
As if a bandage had been ripped from skin
Empty plaque to a house's rise and fall.
–
Twenty years ago l herded cattle
Into pens or held them against a wall
Until my father won at arguing
His own price on a crowd of cattlemen
Who handled rumps, groped teats, stood, paused and then
Bought a round of drinks to clinch the bargain.
–
Uncle and nephew, fifty years ago,
Heckled and herded through the fair days too.
This barrel of a man penned in the frame:
l see him with the jaunty hat pushed back
Draw thumbs out of his waistcoat, curtly smack
Hands and sell.
Father, I've watched you do the same
–
And watched you sadden when the fairs were stopped.
No room for dealers if the farmers shopped
Like housewives at an auction ring. Your stick 
Was parked behind the door and stands there still.
Closing this chapter of our chronicle,
I take your uncle's portrait to the attic.
[/ezcol_1half_end]
–
Seamus Heaney
–
Fotografía ancestral
Death of a Naturalist, 1966, 1991
Muerte de un Naturalista
Traducción: Margarita Ardanaz, 1996
Edición bilingüe
Ediciones Hiperión
Madrid
Original: Death of a Naturalist
–
---