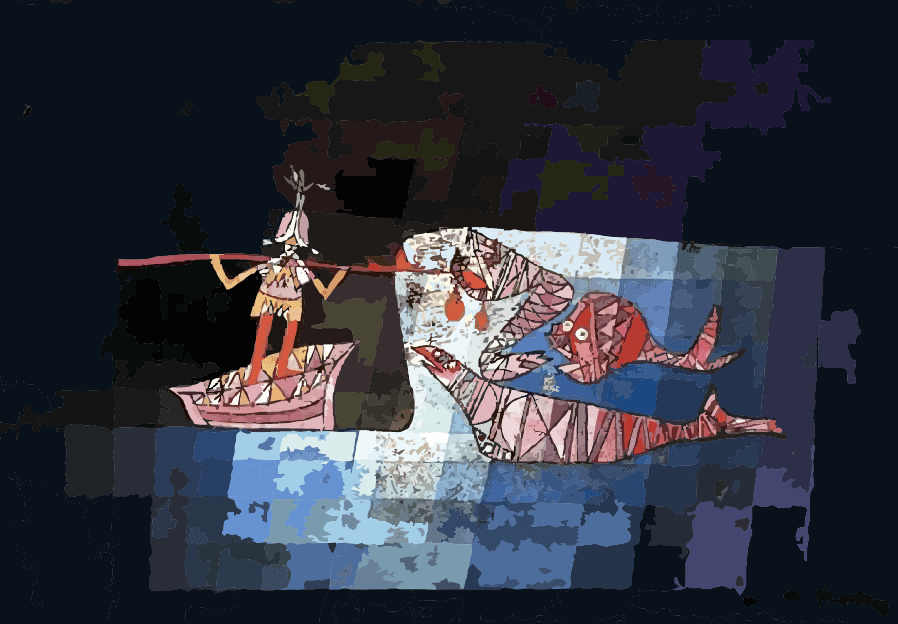 Paul Klee. Escena de batalla de la ópera cómico-fantástica "El navegante". (1923)
Acuarela, óleo y gouache sobre papel sobre acuarela y tinta sobre cartulina.
34,5 x 50 cms.  Kupfterstichkabinett, Colección Pública de Arte. Basilea
–
[ezcol_1half]                    
Imagen de una batalla de la ópera fantástica-cómica
–
El navegante
–
Cautivadora
Esta pequeña Odisea
En rosa y lila
Sobre una superficie de baldosas
De un suave turquesa difuminado
Que representa el mar
Con olas cuadriculadas que alegremente
Elevan al marinero,
Alegremente, alegremente,
Con su penacho rosa y su armadura.
–
Como un frágil farol
Es la góndola de papel
En la que Simbad atraviesa la laguna,
Con su lanza color pastel
Que apunta hacia tres monstruos
Morados y rosa que se levantan
Del océano
Con colmillos y feroces rostros.
Atención, atención
a la ballena, al tiburón y al calamar.
–
Pero aletas y escamas
De cada bestia marina
No arrastran limo ni hierba.
Están pulidas para la justa,
Relucen como huevos de pascua,
rosa y amatista.
Ajab, cumple lo que proclamas:
Llevarás a casa todas estas cabezas
Que de un golpe, de un golpe,
De un golpe caerán cortadas.
–
Así lo cuentan las fábulas.
Y todos los niños cantan sus hondas
Batallas dentro de la bañera,
Largas y arriesgadas,
Pero, oh, la sabia gente adulta sabe
Que el dragón de mar es el sofá, el colmillo
de cartón y el canto de la sirena
fiebre cuando duermen.
Riendo, riéndonos
De los barbagrises nos despertamos.
–
[/ezcol_1half][ezcol_1half_end]
–
Battle-scene from the comic operatic fantasy
–
The seafarer
–
It beguiles—
This little Odyssey
In ink and lavender
Over a surface of gently—
Graded turquoise tiles
That represent a sea
With chequered waves and gaily
Bear up the seafarer,
Gaily, gaily,
In his pink plume and armor.
–
A lantern-frail
Gondola of paper
Ferries the fishpond Sindbad
Who poises his pastel spear
Toward three pinky-purple
Monsters which uprear
Off the ocean-floor
With fanged and dreadful head.
Beware, beware
The whale, the shark, the squid.
–
But fins and scales
Of each scrolled sea-beast
Troll no slime, no weed.
They are polished for the joust,
They gleam like easter eggshells,
Rose and amethyst.
Ahab, fulfill your boast:
Bring home each storied head.
One thrust, one thrust,
One thrust: and they are sped.
–
So fables go.
And so all children sing
Their bathtub battles deep,
Hazardous and long,
But oh, sage grownups know
Sea-dragon for sofa, fang
For pasteboard, and siren-song
For fever in a sleep.
Laughing, laughing
Of graybeards wakes us up.
[/ezcol_1half_end]
–
Sylvia Plath
–
Imagen de una batalla de la ópera fantástica-cómica
El navegante, 1923, Paul Klee
Nuestras versiones
Col.lecció Trix Durst-Hass, Muttenz-Basilea
Traducción al catalán de Montserrat Abelló
Sylvia PLATH, Collected Poems, editada, anotada
y con una introducción de Ted HUGHES, Nueva York
Harper and Row, 1981
–
---