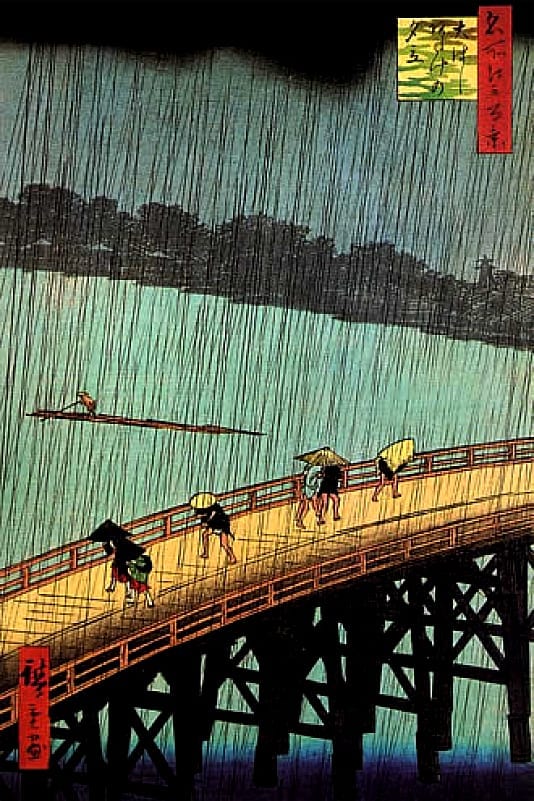 –
El puente de Ohashi: chaparrón repentino cerca de Atake, 1857
Hiroshige Utagawa
British Museum, Londres 
–
---
[ezcol_1half]
Hombres en el puente
–
Extraño planeta y extrañas las gentes que aquí viven.
Sucumben al tiempo, pero sin querer admitirlo.
Tienen sus trucos para expresar su desacuerdo.
Crean imágenes como por ejemplo ésta:
–
Nada de particular a primera vista.
Se ve el agua.
Se ve una de sus orillas.
Se ve una piragua que avanza penosamente río arriba.
Se ve un puente sobre el agua y se ven hombres en el puente.
Los hombres aprietan visiblemente el paso,
porque comienza a azotarlos la lluvia
que cae de una nube oscura.
–
Pero ya no sucede nada más.
La nube no cambia de color ni de forma.
La lluvia no arrecia ni amaina.
La piragua navega sin moverse.
Los hombres del puente corren
hacia donde antes corrían.
–
Imposible evitar un comentario.
No se trata de un cuadro inocente.
Aquí el tiempo ha sido detenido.
Se han obviado sus leyes.
Se le ha privado de influencia en el curso de los acontecimientos.
Ha sido menospreciado y ha sido ultrajado.
–
A causa de un rebelde,
un tal Hiroshige Utagawa
(individuo que, por cierto,
expiró como es debido hace ya mucho tiempo),
el tiempo ha tropezado y ha caído al suelo.
–
Tal vez se trate de una travesura sin importancia,
un exceso a escala de apenas un par de galaxias,
no obstante y por si acaso
añadamos lo siguiente:
–
Aquí suele ser de buen tono
valorar en mucho este cuadro,
admirarlo con emoción desde hace generaciones.
–
Hay quienes van más lejos.
Incluso oyen el rumor de la lluvia,
sienten las frías gotas en la espalda y en la nuca,
miran el puente y a los hombres
como si se vieran allí retratados,
en esa carrera que nunca llega al fin
de un camino sin fin eternamente por recorrer,
y en su desfachatez creen
que en realidad así es.
–
[/ezcol_1half][ezcol_1half_end]
Ludzie na moście
–
Dziwna planeta i dziwni na niej ci ludzie.
Ulegają czasowi, ale nie chcą go uznać.
Mają sposoby, żeby swój sprzeciw wyrazić.
Robią obrazki jak na przykład ten:
–
Nic szczególnego na pierwszy rzut oka.
Widać wodę.
Widać jeden z jej brzegów.
Widać czółno mozolnie płynące pod prąd.
Widać nad wodą most i widać ludzi na moście.
Ludzie wyraźnie przyśpieszają kroku,
bo właśnie z ciemnej chmury
zaczął deszcz ostro zacinać.
–
Cała rzecz w tym, że nic nie dzieje się dalej.
Chmura nie zmienia barwy ani kształtu.
Deszcz ani się nie wzmaga, ani nie ustaje.
Czółno płynie bez ruchu.
Ludzie na moście biegną
ściśle tam, co przed chwilą.
–
Trudno tu obejść się bez komentarza:
To nie jest wcale obrazek niewinny.
Zatrzymano tu czas.
Przestano liczyć się z prawami jego.
Pozbawiono go wpływu na rozwój wypadków.
Zlekceważono go i znieważono.
–
Za sprawą buntownika
jakiegoś Hiroshige Utagawy,
(istoty, która zresztą
dawno i jak należy minęła),
czas potknąl się i upadł.
–
Może to tylko psota bez znaczenia,
wybryk na skalę paru zaledwie galaktyk,
na wszelki jednak wypadek
dodajmy, co następuje:
–
Bywa tu w dobrym tonie
wysoko sobie cenić ten obrazek,
zachwycać się nim i wzruszać od pokoleń.
–
Są tacy, którym i to nie wystarcza.
Slyszą nawet szum deszczu,
czują chłód kropel na karkach i plecach,
patrzą na most i ludzi,
jakby widzieli tam siebie,
w tym samym biegu nigdy nie dobiegającym
drogą bez końca, wiecznie do odbycia
i wierzą w swoim zuchwalstwie,
że tak jest rzeczywiście.
[/ezcol_1half_end]
–
Wislawa Szymborska
–
Hombres en el puente
Traducción de Ana María Moix y Jerzy Sławomirsky
Saltana, nº1
---