–
–
–
El movimiento es el de la Figura hacia la estructura material, hacía el color plano. La Figura es el cuerpo,
y el cuerpo tiene lugar en el cerco del circulo. El cuerpo espera algo de la estructura, y también espera
algo de sí mismo, hace esfuerzos sobre sí mismo.
Sin embargo es en el cuerpo que algo pasa: fuente del movimiento. Ya no el problema del lugar,
sino más bien del acontecimiento. Si hay esfuerzo, y esfuerzo intenso, no es propiamente un esfuerzo
extraordinario, como si se tratara de una empresa más allá de las fuerzas del cuerpo y actuando sobre
un objeto distinto.
El cuerpo se esfuerza o espera precisamente escapar. No soy yo quien intenta escapar a mi cuerpo,
es el cuerpo quien intenta escapar a sí mismo por… en una palabra, un espasmo: el cuerpo como plexus,
y su esfuerzo o su espera de un espasmo. Quizá es una aproximación del horror o de la abyección según
Bacon.
Un cuadro puede guiarnos, «Figura en el lavabo», de 1976: agarrado al ovalo del lavabo, pegado por
las manos a los grifos, el cuerpo-figura hace sobre sí mismo un esfuerzo intenso inmóvil, para escapar
entero por el agujero de desagüe.
–
–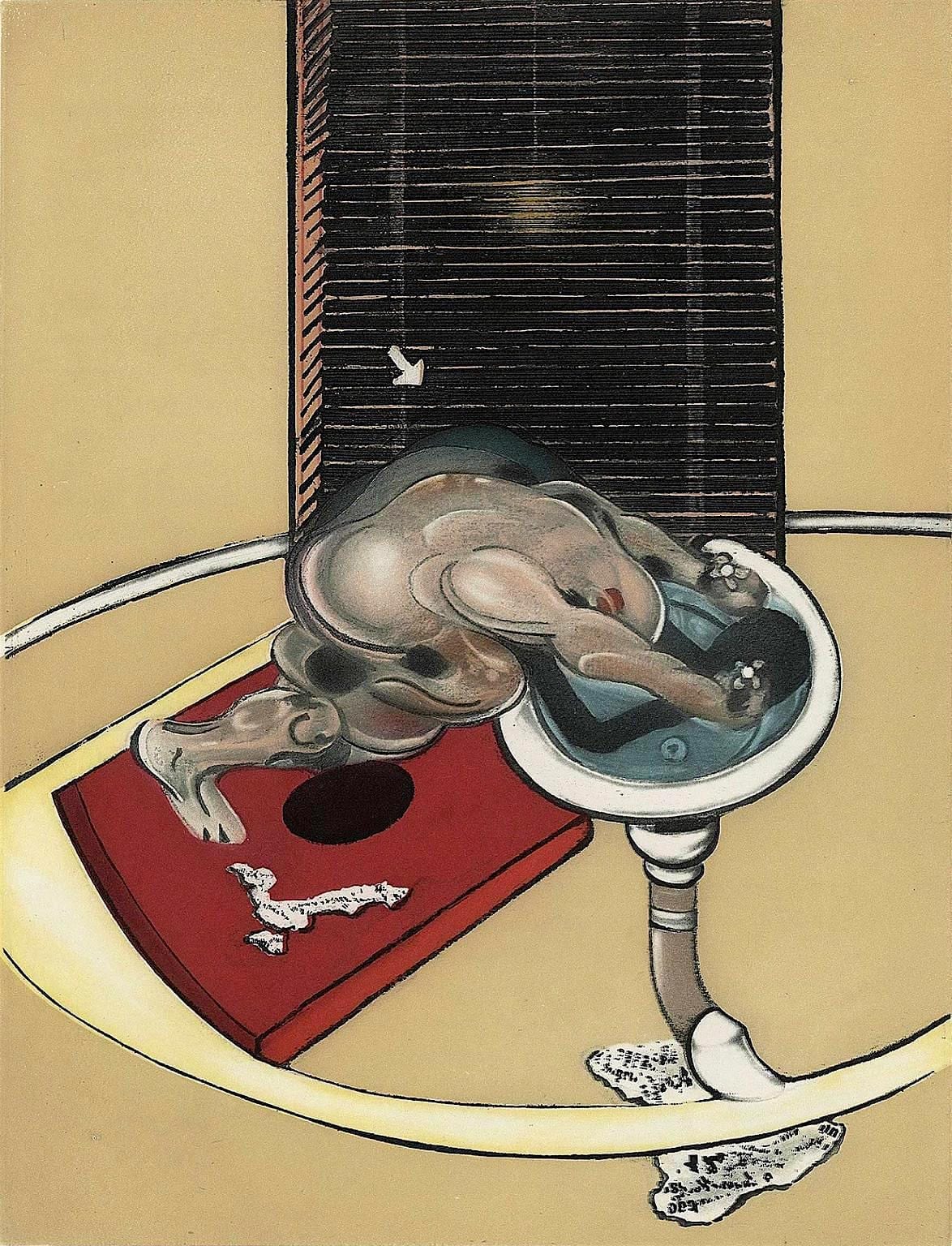 –
Figure at a Washbasin,1976
Museo de Arte Contemporaneo de Caracas
Oil on canvas
198 x 147,5
Private colection
–
–
Un ejemplo analizado por Marc Le Bot: la «Figura en el lavabo», de 1976, «es como un desecho arrastrado
por un río de color ocre, con los remolinos circulares y el arrecife rojo, donde el doble efecto espacial es,
sin duda, encerrar localmente y anudar un momento la expansión ilimitada del color, de tal manera que
sea relanzada y acelerada.
El espacio de los cuadros de Francis Bacon está así atravesado por amplias corrientes de colores.
Si ahí el espacio es comparable a una masa homogénea y fluida en su monocromía, pero quebrada
por rompientes, el régimen de los signos no puede realzar una geometría de la medida estable. Señala,
en ese cuadro, una dinámica que hace deslizar la mirada del ocre claro al rojo.
Por esto se puede inscribir una flecha de dirección…». Se ve bien la repartición: está la gran playa ocre
monocromo como fondo, y que da la armadura.
Está el contorno como potencia autónoma (el arrecife): el púrpura del somier o almohadón sobre
el cual la figura se tiende, púrpura asociado al negro de la pastilla y contrastado con el blanco del periódico
arrugado. En fin la Figura, como una corriente de tonos rotos, ocres, rojos y azules.
Pero hay otros elementos: primero la persiana negra que parece cortar el color plano ocre; y
después el lavabo, él mismo de un azulado roto; y el largo tubo curvado, blanco marcado de manchas
manuales ocres, que contornea el somier, la Figura y el lavabo, y que recorta así el color plano.
Se ve entonces la función de esos elementos secundarios y sin embargo indispensables. El lavabo
es como un segundo contorno autónomo para la cabeza de la Figura, como el primero lo era para el pie.
Y el tubo mismo es un tercer contorno autónomo, del que el brazo superior divide el color plano en
dos. En cuanto a la persiana, su rol es más importante porque, siguiendo un procedimiento caro a Bacon,
cae entre el color plano y la Figura, de manera que llena la profundidad delgada que los separaba, y
vuelve a traer el conjunto sobre un solo y mismo plano. Rica comunicación de los colores: los tonos
rotos de la Figura retoman el tono puro del color plano, pero también el tono puro del almohadón rojo, y,
añadiendo los celestes que resuenan con el del lavabo, azul roto que contrasta con el rojo puro.
–
–
–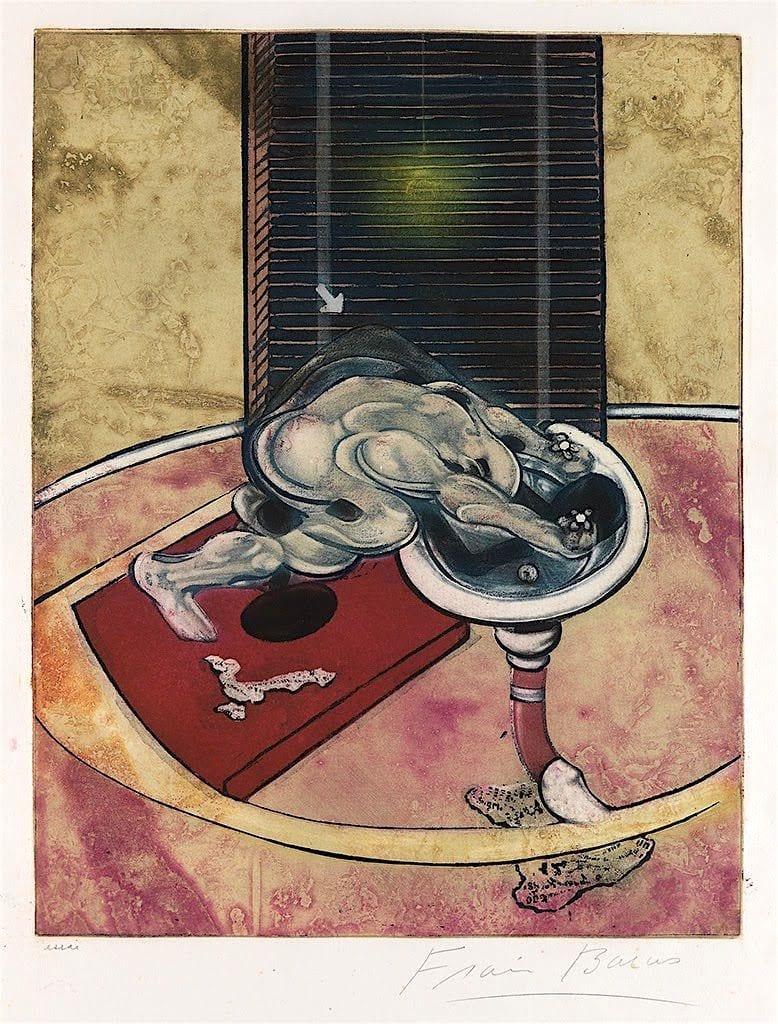 Figure at a Washbasin,
1978
Prints and Multiples,
Etching and aquatint on
Arches paper
26.5 x 20.5 in. (67.3 x 52.1 cm.)
from Requiem pour la Fin des Temps 
–
Etching and aquatint in colours, 1976, on Arches, signed in pencil, numbered XIV/XLVI,
an artist's proof aside from the edition of one hundred published by G. Visat, Paris, with
his blindstamp, the full sheet, folded as issued, with the text by Eddy Batache, a deckle
edge at right, minor scattered foxmarks, occasional handling creases, the sheet slightly
rubbed towards the edges, otherwise in good condition.
–
–
–
---