[ezcol_1half]
canto a mí mismo (4ª parte)
Aparte de la tracción y de lo que tiro con fuerza, sigue en pie lo que soy
Sigue en pie, entretenido, complaciente, compasivo, ocioso, individual,
mirándose, se yergue, apoya un brazo sobre un impalpable y definitivo descanso
mira con la cabeza ladeada curioso, lo que viene después
así dentro, como fuera del juego, también observando y maravillándose por ello.
Retraído, miro dentro de mis días en donde sudaba a través de la niebla con lingüistas y rivales.
No tengo burlas ni argumentos….presencio y espero.
Creo en ti alma mía …. el otro que soy no debe humillarse a sí mismo por ti
y tu no debes ser humillada por el otro.
Holgazanea conmigo en la hierba….suelta el tope de tu garganta
No son palabras, no es música, ni versos lo que quiero…. no es costumbre, ni discurso, ni siquiera el mejor
Sólo me gusta la tranquilidad, el canturreo de tu modulada voz.
Me importa cómo nos tendimos en junio, esa transparente mañana de verano
Colocaste tu cabeza transversalmente a mis caderas y delicadamente entregado sobre mi, 
separaste la camisa de mi íntimo pecho y hundiste tu lengua en mi desprotegido corazón
y te estiraste hasta sentir mi barba y hasta que alcanzaste y agarraste mis pies
Rápidamente te levantaste y esparciste a mi alrededor la paz y alegría y los conocimientos que sobrepasan todo arte y argumentos de la tierra;
Y sé que la mano de Dios es mi propia experimentada mano.
Y sé que el espíritu de Dios es mi propio hermano mayor
y que todos los hombres que han nacido en todo el mundo son también mis hermanos….y las mujeres, mis hermanas y amantes
Y que la sobrequilla de la creación es el amor
e ilimitadas son las firmes o caídas hojas en los campos
y las doradas hormigas en los pequeños hoyuelos bajo ellas
y la costra musgosa de la valla y las amontonadas piedras y el saúco y la candelaria y la altasara.
Whitman, Walt, 1819-1892. Leaves of Grass (1855) 
Electronic Text Center, University of Virginia Library
Nuestras versiones
[/ezcol_1half] [ezcol_1half_end]
song of myself
Apart from the pulling and hauling stands what I am, 
Stands amused, complacent, compassionating, idle, unitary, 
Looks down, is erect, bends an arm on an impalpable certain rest, 
Looks with its sidecurved head curious what will come next, 
Both in and out of the game, and watching and wondering at it. 
Backward I see in my own days where I sweated through fog with linguists and contenders, 
I have no mockings or arguments . . . . I witness and wait. 
I believe in you my soul . . . . the other I am must not abase itself to you, 
And you must not be abased to the other. 
Loafe with me on the grass . . . . loose the stop from your throat, 
Not words, not music or rhyme I want . . . . not custom or lecture, not even the best, 
Only the lull I like, the hum of your valved voice. 
I mind how we lay in June, such a transparent summer morning; 
You settled your head athwart my hips and gently turned over upon me, 
And parted the shirt from my bosom-bone, and plunged your tongue to my barestript heart, 
And reached till you felt my beard, and reached till you held my feet. 
Swiftly arose and spread around me the peace and joy and knowledge that pass all the art and argument of the earth; 
And I know that the hand of God is the elderhand of my own, 
And I know that the spirit of God is the eldest brother of my own, 
And that all the men ever born are also my brothers . . . . and the women my sisters and lovers, 
And that a kelson of the creation is love; 
And limitless are leaves stiff or drooping in the fields, 
And brown ants in the little wells beneath them, 
And mossy scabs of the wormfence, and heaped stones, and elder and mullen and pokeweed.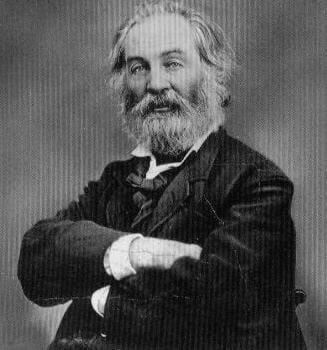 [/ezcol_1half_end]
---