corpo e alma
Na Itália il miracolo é de pesca noturna. Mortalmente ferido pelo arpão, larga no mar sua tinta roxa. Quem o pesca desembarca antes de o sol nascer – sabendo com o rosto lívido e responsável que arrasta pelas areias o enorme peso da pesca milagrosa, amor. Milagre é lágrima na folha, treme, desliza, tomba: eis milhares de milágrimas brilhando no chão. The miracle tem duras pontas de estrelas e muita prata farpada. Para passar de palavra a seu sentido, destrói-se em estilhaços, assim como fogo de artifício é objeto opaco até ser fulgor no ar e a própria morte. (Na passagem de corpo a sentido, o zangão tem o mesmo atingimento supremo: ele morre.) Le miracle é um octógono de vidro que se pode girar lentamente na palma da mão. Ele está na mão, mas é de se olhar. Pode-se vê-lo de todos os lados, bem devagar, e de cada lado é o octógono de vidro. Até que de repente – arriscando o corpo, e já toda pálida de sentido – a pessoa entende: na própria mão aberta não está um octógono, mas um milagre. A partir desse instante não se vê mais nada. Tem-se.
cuerpo y alma
En Italia il miracolo es de pesca nocturna. Mortalmente
herido por el arpón, lanza al mar su tinta morada. Quien lo
pesca desembarca antes de que salga el sol, sabiendo con
el rostro lívido y responsable que arrastra por las arenas el
enorme peso de la pesca milagrosa, amor. Milagrees una lágrima
en la hoja, tiembla, se desliza, cae: he ahí millares de
milágrimas brillando en el suelo. The miracle tiene puntas duras
de estrella y mucha plata espinosa. Para pasar de palabra
a su sentido se destruye en añicos, así como los fuegos
artificiales son opacos hasta ser fulgor en el aire de su pro-
pia muerte. (En el paso de cuerpo a sentido el zángano tiene
el mismo alcance supremo: muere.) Le miracle es un octógono
de cristal que se puede hacer girar lentamente en la
palma de la mano. Está en la mano, pero es para mirarlo.
Se puede ver por todos los lados, muy despacio, y por cada
lado es el octógono de cristal. Hasta que de repente -arriesgando
el cuerpo, ya pálido de sentido- uno entiende: en la
propia mano abierta no hay un octógono, sino un milagro.
A partir de ese momento no se ve nada más. Se tiene.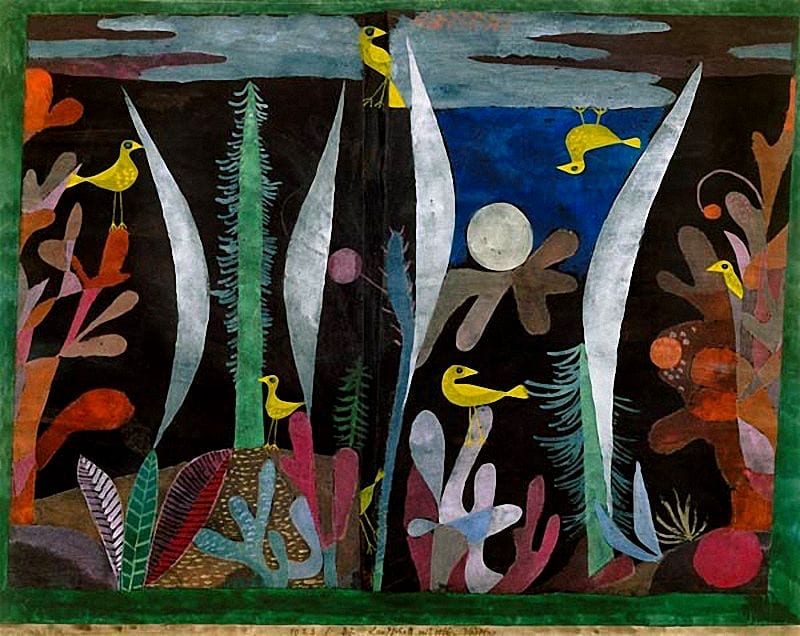 Paul Klee 
Style Moderne classique
Oeuvre Paysage avec des oiseaux jaunes (1923)
Format 44 x 35 cm
Exposition Private collection
paul klee
Se eu me demorar demais olhando Paysage aux oiseaux jaunes, de Klee, nunca mais poderei voltar atrás. Coragem e covardia são um jogo que se joga a cada instante. Assusta a visão talvez irremediável e que talvez seja a da liberdade. O hábito de olhar através das grades da prisão, o conforto de segurar com as duas mãos as barras, enquanto olho. A prisão é a segurança, as barras o apoio para as mãos. Então reconheço que a liberdade é só para muito poucos. De novo coragem e covardia se jogaram: minha coragem, inteiramente possível, me amedronta. Pois sei que minha coragem é possível. Começo então a pensar que entre os loucos há os que não são loucos. É que a possibilidade, que é verdadeiramente realizada, não é para ser entendida. E à medida que a pessoa quiser explicar, ela estará perdendo a coragem, ela já estará pedindo; Paysage aux oiseaux jaunes não pede. Pelo menos calculo o que seria a liberdade. E é isso o que torna intolerável a segurança das grades; o conforto desta prisão me bate na cara. Tudo o que eu tenho aguentado – só para não ser livre…
paul klee
Si me entretengo demasiado mirando Paysage aux oiseaux
jaunes, de Klee, nunca más podré volver atrás. Coraje y
cobardía son un juego que se juega a cada momento. Atemoriza
la visión tal vez irremediable y quizá sea la de la libertad.
La costumbre de mirar a través de las rejas de la
cárcel, el consuelo de sujetar con las dos manos las barras,
mientras miro. La cárcel es la seguridad; las barras, el apoyo
para las manos. Entonces reconozco que la libertad es
sólo para unos pocos. De nuevo coraje y cobardía en juego:
mi coraje, completamente posible, me amedrenta. Porque
sé que mi coraje es posible. Empiezo entonces a pensar que
entre los locos los hay que no están locos. Es que la posibilidad,
cuando se realiza verdaderamente, no es para ser entendida.
Y a medida que uno quiere explicarla, estará perdiendo
el coraje, ya estará pidiendo; Paysage aux oiseaux jaunes
no pide. Al menos calculo lo que sería la libertad. Y
eso es lo que hace intolerable la seguridad de las rejas; la
comodidad de esta cárcel me golpea en la cara. Todo lo
que he aguantado, sólo para no ser libre …
CLARICE LISPECTOR
PARA NO OLVIDAR
Crónicas y otros textos
Traducción del portugués de
Elena Losada
Libros del Tiempo Ediciones Siruela
•
---