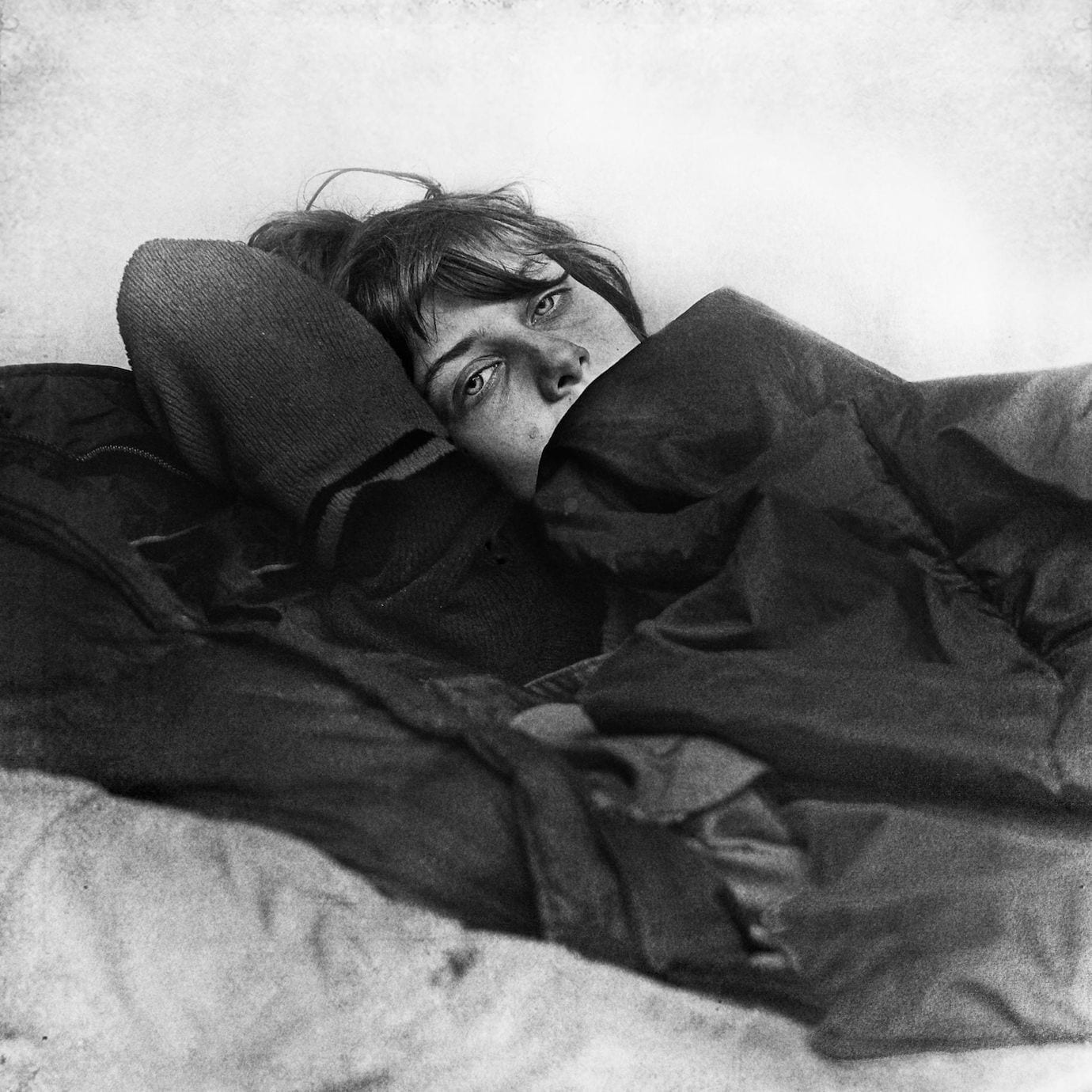 –
–
The girl in london 2008
–
"My 1st Homeless image.  
The young girl in the sleeping bag in London."
–
La girl de Londres está hermosa como una paloma herida, como un ciervo vulnerado que no logra dar a la caza
alcance, pero tampoco quiere abandonarse, dejando su cuidado entre las azucenas olvidado –lo dijo el poeta-, de manera
que sólo siente un exhausto desasosiego: algo como un peso opaco entre no morirse ni vivir; una hemorragia de vida con
los sentimientos extraños, con las emociones irreconocibles.
La girl de Londres duda entre subirse a la mujer de sí misma o quedarse un tiempo más en la niña, en la adolescente;
duda entre utilizar sus espléndidas rodillas como una diosa o seguir chupándose el pulgar hasta el hueso.
Así que se ha tumbado en el puentecillo que une —o separa— las dos orillas y está angustiada porque no sabe si
levantarse y andar hacia adelante o ponerse a cuatro patas y gatear hacia atrás.
La girl de Londres acaba de salir del espesor de la normalidad, y no sabe todavía dónde se encienden las moscas ni
dónde se apagan los moscardones. Y esta noche dormirá allá, lejos, donde está la tiniebla tenebrosa, donde el alma tiene
que usar sus garfios para no perderse.
La girl aún se hace muchas preguntas, cae en las dudas: ¿con qué mano se tapará la oreja sorda, sorda? ¿con qué
pensamiento pensará un pollo, vivo o muerto? ¿cómo convencer a la madera de que no arda, de que no flote, de que se
deje besar? ¿tendrá que buscarse la vida toda la vida, como los demás, pero sin anestesia?
Que piense lo que quiera, pero que lo piense ya; que sepa que la felicidad [¿?] es la certeza de no sentirse perdido.
–
–
–
–
–
–
Fotografía de Lee Jeffries, The girl in london 2008
---