el curioso testamento y
últimas voluntades
de william
shakespeare
de Testamenta
La reciente aparición del testamento y últimas voluntades de William Shakespeare
ha dejado entrever como era la sociedad de la época y de qué forma eran valorados
los bienes del poseedor.
Un testamento que ha sorprendido a muchos, y cuyo mejor bien fue entregado a su mujer.
Anne Hathaway, la esposa de Shakespeare, fue la más beneficiada en el testamento
del dramaturgo inglés, y es que su marido no dudó en dejarle su bien más preciado,
"su segunda mejor cama".
Lo curioso de esta decisión que en la época actual puede resultar bastante sorprendente,
está en las costumbres de la sociedad de la época en la que vivió el escritor, concretamente
en la época isabelina, en la cual la esposa tenía pleno derecho a recibir un tercio del
patrimonio y a residir en el hogar conyugal hasta el momento de su muerte.
Además, en aquella época los invitados que visitaban un hogar siempre debían ocupar
la mejor cama de la casa, es por ello que Shakespeare decidió dejar a su mujer solo
la "segunda mejor cama" considerada la cama matrimonial.
A la hora de otorgar testamento, las hijas de Shakespeare, también recibieron por su parte,
una generosa dotación económica. Así, el escritor inglés dio a cada una de ellas un total
de 150 libras, que en la actualidad equivaldrían a nada más y nada menos que 457.000 euros.
Un testamento sin duda de lo más generoso.
•
The Last Will and Testament of William Shakespeare, 1616
El Testamento y últimas voluntades de William Shakespeare está compuesto de tres páginas
(de las que reproducimos la última, donde aparece su firma). Está fechado el 25 de marzo de 1616
(según nuestro calendario, el 4 de abril), un mes antes de su muerte.
En el texto se dan las instrucciones precisas para entregar dinero, posesiones y objetos a sus hijas
Susanna y Judith, así como otras donaciones al resto de su familia y amigos.
A los pobres de su pueblo, les deja 10 libras. Y a su esposa, Anne Hathaway, su "segunda mejor cama".
Esta frase ha sido objeto de controversia (suponiendo falta de respeto), pero parece que se trata de
la cama matrimonial, mientras que la primera sería la de los invitados.
En cualquier caso, no hay nada confirmado al respecto.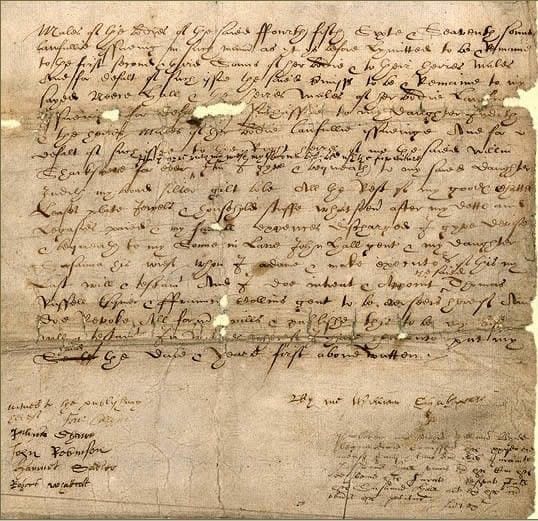 Ξ
---