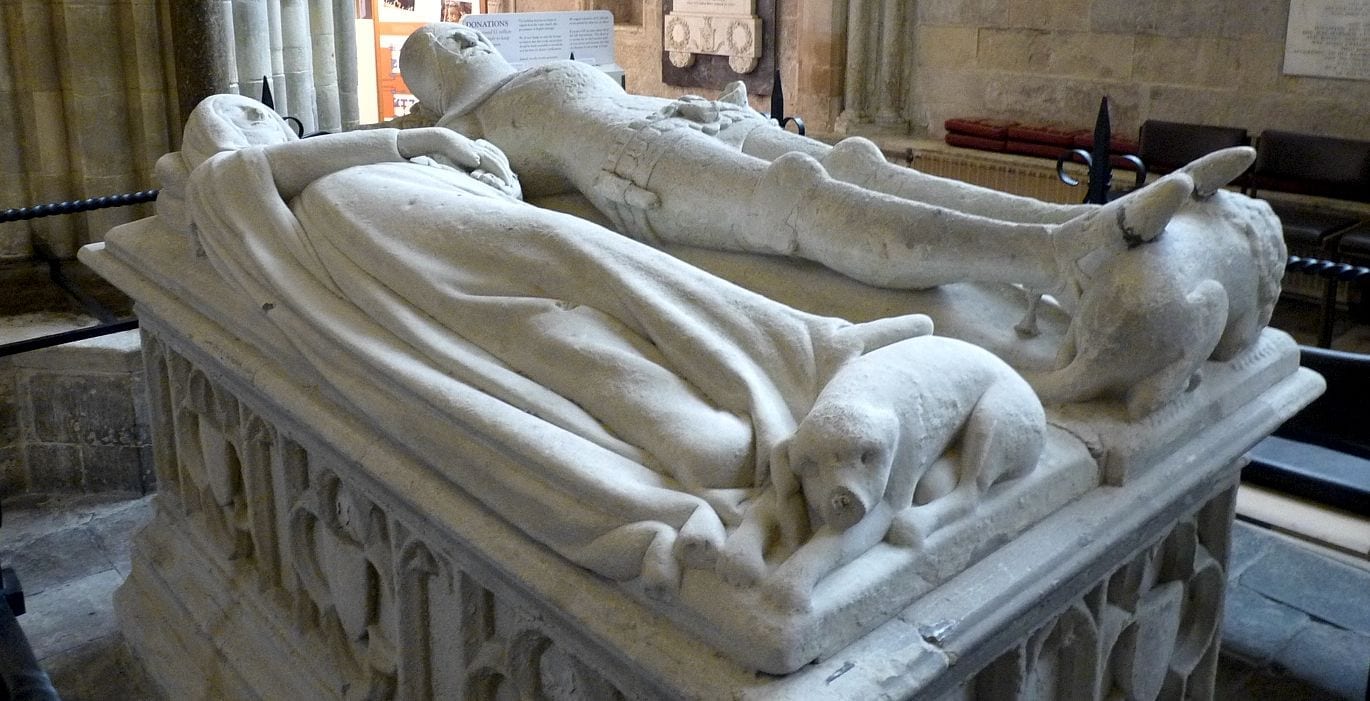 [ezcol_1half]      
–
una tumba para los arundel
–
–
Uno al lado del otro, las caras borrosas,
el conde y la condesa yacen en piedra,
sus decorosos hábitos vagamente asoman
en forma de armadura articulada, pliegues
almidonados, y ese leve toque de absurdo:
los perrillos bajo sus pies.
La simplicidad de ese prebarroco
apenas llama la atención, hasta que el ojo
capta el guantelete izquierdo de él,
que, vacío, la otra mano sostiene, y ve,
con una sorpresa a la vez brusca y tierna,
que le está cogiendo la mano a la mujer.
No pensaron que durarían tanto.
Esa fidelidad en efigie era apenas
un detalle que los amigos verían:
la amable gracia de encargo de un escultor
que solo pretendía contribuir a que pervivieran
los nombres en latín que hay en la base.
No imaginaban qué pronto,
en su supino viaje estacionario,
el aire se haría callado deterioro,
los convertiría en ocupantes anónimos;
qué pronto los ojos que vendrían luego
comenzarían a mirar, no a leer. Rígidos
persistieron, unidos, a través de longitudes
y anchuras de tiempo. Cayó nieve sin fecha. La luz
cada verano inundaba el cristal. El alegre
reclamo de los pájaros se esparcía
por el mismo terreno sembrado de huesos. Y por los caminos
llegaba la gente, infinita y distinta,
en una marea que diluía su identidad.
Ahora, desamparados en el vacío
de una época sin heráldica, un cubículo
donde flota una madeja de humo
sobre su fragmento de historia,
solo una pose permanece:
el tiempo los ha convertido en algo
falso. Esa fidelidad en piedra
que nunca pretendieron ha resultado
su blasón final, y demostrado
que nuestro casi instinto es casi cierto:
lo que sobrevivirá de nosotros es el amor.
 [/ezcol_1half] [ezcol_1half_end]  
–
An Arundel tomb
–
–
Side by side, their faces blurred,
The earl and countess lie in stone,
Their proper habits vaguely shown
As jointed armour, stiffened pleat,
And that faint hint of the absurd –
The little dogs under their feet.
Such plainness of the pre-baroque
Hardly involves the eye, until
It meets his left-hand gauntlet, still
Clasped empty in the other; and
One sees, with a sharp tender shock,
His hand withdrawn, holding her hand.
They would not think to lie so long.
Such faithfulness in effigy
Was just a detail friends would see:
A sculptor's sweet commissioned grace
Thrown off in helping to prolong
The Latin names around the base.
They would not guess how early in
Their supine stationary voyage
The air would change to soundless damage,
Turn the old tenantry away;
How soon succeeding eyes begin
To look, not read. Rigidly they
Persisted, linked, through lengths and breadths
Of time. Snow fell, undated. Light
Each summer thronged the glass. A bright
Litter of birdcalls strewed the same
Bone-riddled ground. And up the paths
The endless altered people came,
Washing at their identity.
Now, helpless in the hollow of
An unarmorial age, a trough
Of smoke in slow suspended skeins
Above their scrap of history,
Only an attitude remains:
Time has transfigured them into
Untruth. The stone fidelity
They hardly meant has come to be
Their final blazon, and to prove
Our almost-instinct almost true:
What will survive of us is love.
[/ezcol_1half_end]
–
Philip Larkin
–
Una tumba para los Arundel
Poesía Reunida
Las bodas de pentecostés
The Complete Poems, Archie Burnett, ed.
Nueva York, Farrar, Strauss and Giroux, 2012
Versiones de Damián Alou y Marcelo Cohen
Lumen
–
---