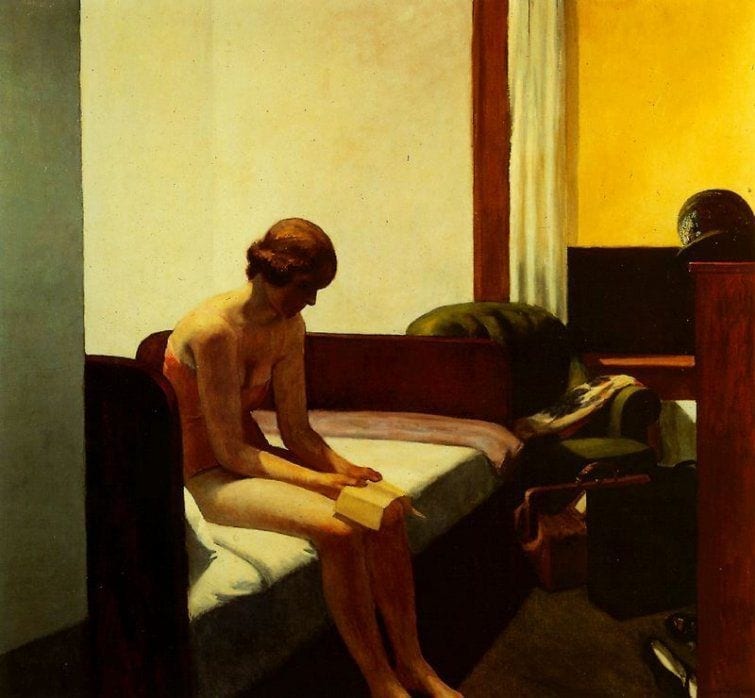 –
–
–
¡Oh, qué tristeza inconsciente de serlo!
¡Qué desesperación que no sabe de sí misma!
–
Una mujer de negocios, su maleta deshecha en el suelo, se sienta
En una cama en ropa interior, combinación roja, el cabello impecable; tiene
Un papel en la mano, posiblemente con números.
–
¿Quién eres? Nadie se lo pregunta. Tampoco lo sabe.
–
–
–
O what sadness unaware that it's sadness!
What despair that doesn't know it's despair.
–
A business woman, her unpacked suitcase on the floor, sits
on a bed half undressed, in red underwear, her hair impeccable; she has
a piece of paper in her hand, probably with numbers.
–
Who are you? Nobody will ask. She doesn't know either.
–
–
Robert Hass
–
Esa música
Tiempo y materiales
S. L. Bartleby Editores
2008 Madrid
–
Edward Hopper (1882-1967)
Habitación de hotel
Colección Thyssen-Bornemisza, Lugano
–
---