paul muldoon
el irlandés que hace poesía de lo cotidiano
Bajo el sello Valparaíso circula 'Almuerzo con Pancho Villa. Poemas escogidos 1968-1998'
No sé si el poeta Paul Muldoon (Irlanda, 1951), alguna vez escuchó o leyó aquella cita de Bertolt Brecht:
"Ante los hechos cotidianos, por favor, no digan: es natural"
pero lo cierto es que si algo deslumbra de su poesía es la relación que tiene con lo que sucede durante
el día a día y que no es otra cosa más que la vida.
Hijo de granjeros católicos, el escritor irlandés es un asiduo de imágenes y figuras sencillas, más no por
ello simples. Sus personajes suelen encontrarse en situaciones a las que cualquiera de nosotros podemos
enfrentarnos, la diferencia estriba en el ojo o la mirada del poeta que mediante unos cuantos versos nos
descoloca de nuestra zona de confort.
[ezcol_1half] 
vísperas /vespers
new weather, 1973
[…]
Couldn't we go to sleep
Together for once,
If only of necessity?
We could always keep
The sheet between us.
I'll do nothing you won't.
We'll both be colder
For being lost in thought,
Setting up difficulties
Where none ought to exist. [/ezcol_1half] [ezcol_1half_end]
[…]
¿No podríamos irnos a dormir
Juntos sólo esta vez,
aunque sea por necesidad?
Siempre podríamos mantener
La sábana entre nosotros.
No haré nada que tú no quieras.
Ambos pasaremos más frío
Por estar perdidos en el pensamiento,
Creando dificultades
Donde no debería de existir ninguna. [/ezcol_1half_end]
Diez versos son suficientes para hablar de frustración, rabia, ruptura.
La antología llega hasta los poemas escritos antes de que Muldoon cumpliera cincuenta años.
why brownlee left,1980
[ezcol_1half]       
salvado
Mientras él mira en los ojos de las mujeres
Que se han dejado ir,
Mientras suspiran y gimen
De pura alegría,
Él se lamenta por el chico en aquella pequeña granja
Que toma a un labrador color avena
Entre sus brazos,
Que sabe que todo lo que existe es el arrebato.[/ezcol_1half] [ezcol_1half_end] 
bran
While he looks into the eyes of women
Who have let themselves go,
While they sigh and they moan
For pure joy,
He weeps for the boy on that small farm
Who takes an oatmeal Labrador
In his arms,
Who knows all there is of rapture.[/ezcol_1half_end]
La poesía de Muldoon es narrativa y transparente.
Se lee fácil, pero para poder ir más allá invita a la relectura.
Es en la segunda vista cuando cumplirá su verdadero efecto,
cuando cala y nos obliga a bajar la guardia.
No queda más que reconocer que el poeta nos ha acomodado
un gancho de aquellos que paralizan y adormecen.
•
extraordinary rendition
un poema de paul muldoon
la traducción que ha hecho la poeta
y traductora argentina Marina C. Kohon
[ezcol_1half]     
extraordinary rendition
I
I gave you back my claim on the mining town
and the rich vein we once worked,
the tumble down
from a sluice box that irked
you so much, the narrow gauge
that opened up to one and all
when it ran out at the landing stage
beyond the falls.
I gave you back oak ties,
bully flitches, the hand-hewn crossbeams
from which hung hardtack
in a burlap bag that, I'd surmise,
had burst its seams
the last night we lay by the old spur track.
II.
You gave me back your frown
and the most recent responsibility you'd shirked
along with something of your renown
for having jumped from a cage just before it jerked
to a standstill, your wild rampage
shot through with silver falderals,
the speed of that falling cage
and the staidness of our canyon walls.
You gave me back lake skies,
pulley glitches, gully pitches, the reflected gleams
of two tin plates and mugs in the shack,
the echoes of love sighs
and love screams
our canyon walls had already given back.[/ezcol_1half] [ezcol_1half_end] 
versión extraordinaria
I
Te devolví mi reclamo sobre el pueblo minero
y la rica veta que una vez trabajamos
el colapso
de una represa que te fastidiaba
tanto, la trocha angosta
que se abrió a todos
cuando se agotó en el desembarcadero
más allá de las cataratas
Te devolví vigas de roble
paneles machimbrados, tirantes hachados
de los que colgaban galletas
en una bolsa de arpillera, que supongo
rompió sus costuras
la última noche que nos recostamos a la vera del viejo desvío.
II
Me devolviste tu ceño fruncido
y la responsabilidad que habías eludido más recientemente
junto con algo de tu renombre
por haber saltado de una jaula elevadora justo antes que se sacudiera
hasta quedar inmóvil, tu locura salvaje
que disparabas con baratijas plateadas
la velocidad de esa jaula que caía
y la firmeza de las paredes de nuestro cañón.
Me devolviste cielos de lagos
fallos de poleas, desfiladeros, el reflejo
de dos jarros y platos de latón en la caseta,
los ecos de suspiros
y gritos de amor
las paredes de nuestro cañón ya han cedido.[/ezcol_1half_end]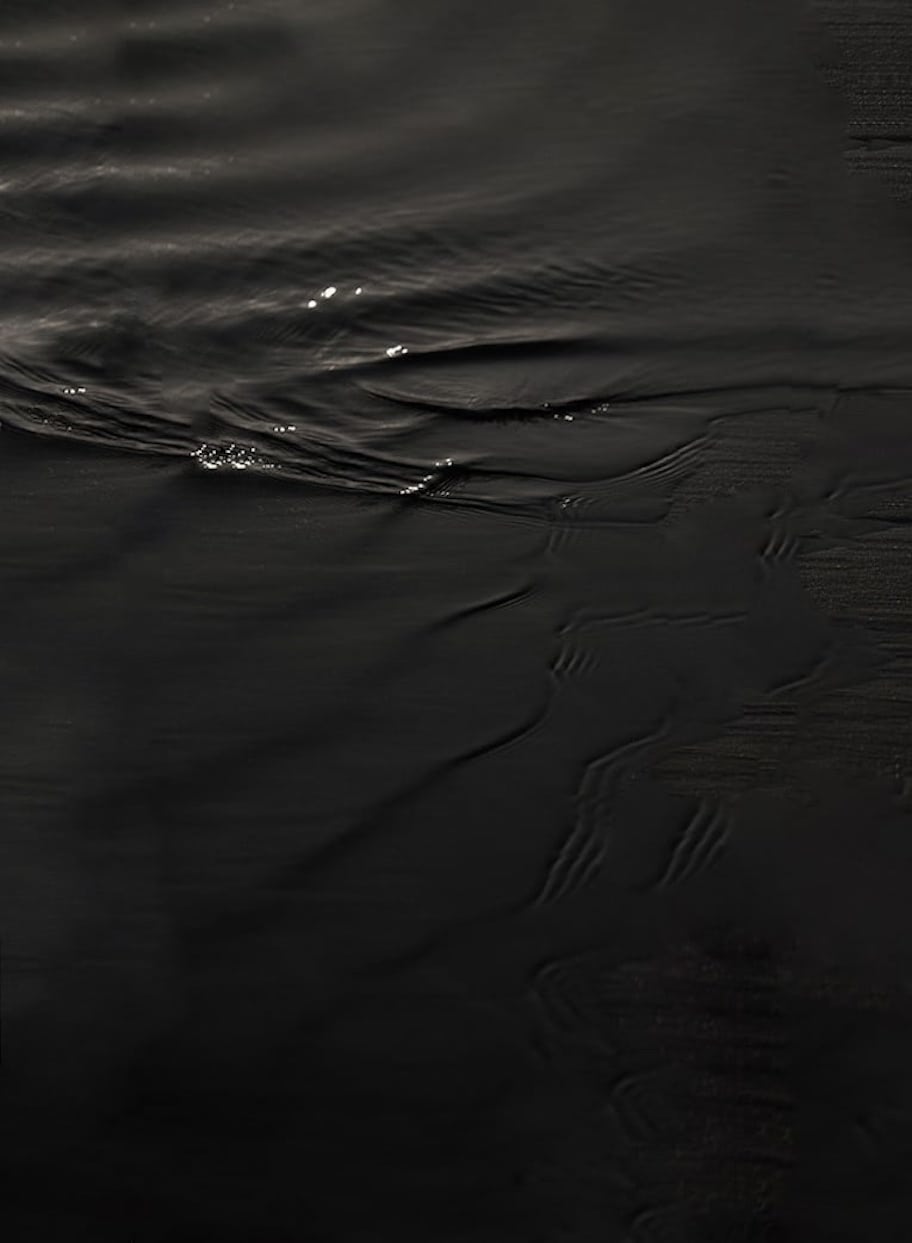 •