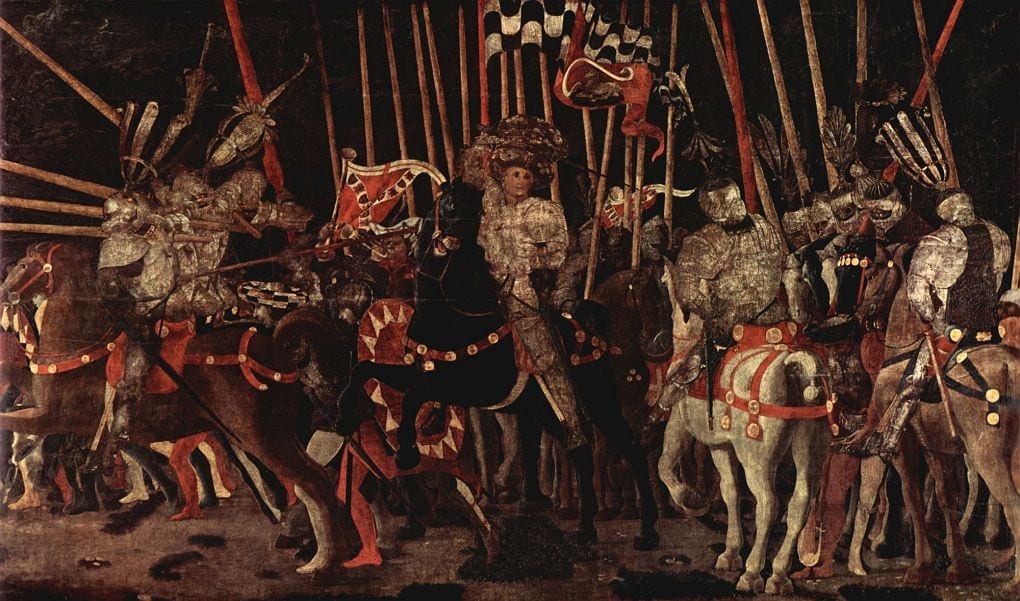 –
[ezcol_1half]       
–
uccello
–
Ellos nunca morirán en ese campo de batalla
ni las sombras de los lobos reclutarán sus tesoros como
novias del trigo en todos los horizontes esperando allí
para consumir el fin de la batalla
no habrá ningún muerto que ponga tensos sus vientres
flojos ningún montón de tiesos caballos en los que
enrojecer sus ojos brillantes o aumentar su comida de
muertos.
Antes vagarían enfurecidos y hambrientos con lenguas
dementes que creer que en ese campo ningún hombre pudo morir.
Nunca morirán aquellos que luchan tan abrazados
aliento con aliento, el ojo reconociendo al ojo, imposible
morir o moverse, ninguna luz se filtra, ningún brazo con maza,
nada más que un caballo resoplando contra otro, escudo
brillante sobre escudo, todos iluminados
por el afilado rayo de un ojo bajo un yelmo.
¡Y aquellos pendones! Lo bastante airados para echar a volar
sus insignias de una parte a otra del cielo que han borrado.
Podría imaginarse que pintó sus ejércitos junto a los ríos
más fríos que tenías filas de calaveras de acero
brillando en la oscuridad.
Pensarías que es imposible que un hombre muera
la boca de cada combatiente es un castillo de canción
cada puño de acero un gong soñador, golpe resonante,
golpe
como gritos de oro
¡Cómo desearía participar en tal batalla!
Un hombre plateado en un caballo negro con un
estandarte rojo
y una lanza listada, nunca morir sino ser eterno
un príncipe dorado de una guerra pictórica.
 [/ezcol_1half][ezcol_1half_end]     
–
–
uccello
–
They will never die on that battlefield nor the shade of wolves
recruit their hoard like brides of wheat on all horizons waiting there to
consume battle's end There will be no dead to tighten their loose bellies
no heap of starched horses to redsmash their bright eyes or advance their
eat of dead They would rather hungersulk with mad tongues than believe
that on that field no man dies
–
They will never die who fight so embraced breath to breath eye
knowing eye impossible to die or move no light seeping through no
maced arm nothing but horse outpanting horse shield brilliant upon shield
all made starry by the dot ray of a helmeted eye ah how difficult to fall
between those knitted lances And those banners! angry as to flush
insignia across its erasure of sky
–
You'd think he'd paint his armies by the coldest rivers have rows
of iron skulls flashing in the dark
–
You'd think it impossible for any man to die each
combatant's mouth is a castle of song each iron fist a
dreamy gong flail resounding flail
like cries of gold
how I dream to join such battle!
a silver man on a black horse with red standard and striped lance never to
die but to be endless a golden prince of pictorial war
[/ezcol_1half_end]
–
Gregory Corso
–
Uccello
De Gasolina
Traducido por Diego A. Manrique para Producciones Editoriales
–
---