so do you
Because you are beautiful, but smelled bad, I knew you had been killed. And you felt the same about me.
You said, "You are an elegant old man, but you stink." After the long event of naked intervention, you brought
your hands together and bowed. "Thank you," you said. "That was the first time I never did anything." Many
are the lovely things I have been told about my luck, but this was surely the loveliest. "How do I smell now?" I
asked. "Worse than ever," you said. "Exactly my impression about you," I said. Then you went back to
France (or was it Holland?) and we have remained fast friends ever since. Sometimes, when the
hummingbirds are still, I can smell you rotting halfway across the world.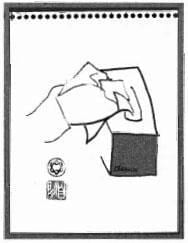 como tú
Porque eres hermosa, pero olías mal, supe que te habían matado. Y tú pensaste lo mismo de mí. Dijiste:
«Eres un anciano elegante, pero apestas». Después del largo evento de la intervención desnuda, juntaste
las manos y te inclinaste. «Gracias», dijiste. «Ha sido la primera vez que no he hecho nada.» Muchas han
sido las cosas maravillosas que me han dicho sobre mi suerte, pero aquélla fue sin duda la más
maravillosa. «¿Cómo huelo ahora?», te pregunté. «Peor que nunca», dijiste. «Eso mismo pienso de ti»,
dije yo. Después volviste a Francia (¿o era Holanda?) y desde entonces hemos sido buenos amigos. A
veces, cuando los colibríes están quietos, huelo cómo te pudres al otro lado del mundo.
Book of Longing
PENGUIN BOOKS
Leonard Cohen, 2006
Drawings and decorations Leonard Cohen, 2006
Leonard Cohen
 Libro del anhelo
Book of Longing
Leonard Cohen, 2006
Traducción: Alberto Manzano, con la colaboración de Ivan Giesen, Birgit Reinke y Leonard Cohen
Ilustraciones: Leonard Cohen
---